The Academy Doesn't Know What To Do If Banksy Wins An Oscar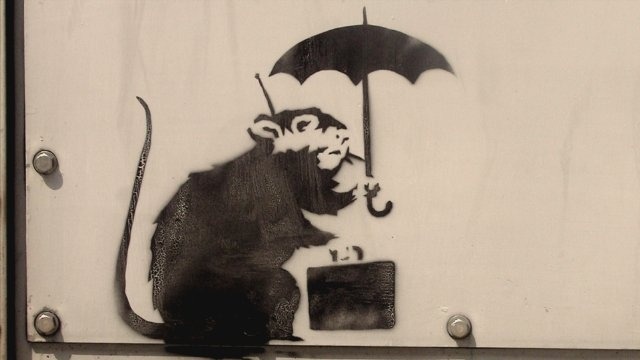 Exit Through The Giftshop is not only one of the best documentaries of 2010, but it's one of the best movies of the year. The documentary which is credited to the elusive street art icon Banksy is up for an Oscar, but The Academy of Motion Pictures Arts and Sciences isn't sure how to handle the situation. He has worn disguises in the past (dark hooded sweatshirts, monkey masks) and has even sent others to fill in for his absense. The filmmaker did not show up for the annual Oscar luncheon, but if the film wins, will he go up on stage?
The Academy's executive director Bruce Davis tells The Wrap:
The fun but disquieting scenario is if that film wins and five guys in monkey masks come to the stage all saying, 'I'm Banksy!' Who the hell do we give it to? [The Academy] needs to have a procedure in place. That's the fun part of this job. There's always some crazy-ass wrinkle you never thought of before.
Academy president Tom Sherak agrees that "it would not be dignified for the Academy to have somebody come up wearing a monkey's head." Sherak has since come to an agreement with Exit Through the Gift Shop producer Jaimie D'Cruz — the plan is that if Exit wins the Oscar, the producers will accept Banksy's award in his place. But will Banksy, who is known for his shenanigans, go along with the plan?