Annette Bening, Morgan Freeman To Star In Rob Reiner's 'The Third Act'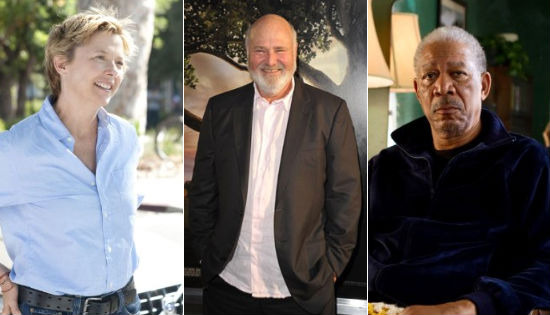 Though Rob Reiner's directorial career started with a bang, over the last decade, he's struggled to enjoy the kind of success he had in the Eighties and early Nineties. His most recent film, Flipped, was a true, underrated return to form though and even though it bombed due to awkward marketing, lack of stars and an almost too cheery-for-words tone, the film made my top ten of 2010. Reiner has now announced his follow up and it seems he's slipping back into his old habits. His next film is called The Third Act and will most likely star Annette Bening and Morgan Freeman. Read what little we know about it after the jump.
Reiner broke the news to Showbiz 411 (with a nod to The Film Stage) at a recent meeting of the AARP. That seems appropriate, too, because from the title of the film and stars, it sounds like an AARP movie.
I'm working on a film the title of it now is now called The Third Act. It looks like we'll have Morgan Freeman and Annette Bening in it together. I don't want to tell you more about it because we haven't even started shooting yet.  You're the only person I've told. It hasn't been announced.  I'm directing –producing and doing some rewriting from an original script by a fellow named Guy Thomas.
Though that's all we know about the movie, "Third Act" is a commonly-used phrase for the part of a person's life after retirement. So, it'll probably be something along the lines of two retirees who fall in love and that leads me to believe it's going to be a film similar to Reiner's The Bucket List or It's Complicated, which he didn't do, but was about older people falling in love. And while Bening and Freeman will kill a good script, Reiner going back into his last decade comfort zone has me a tad nervous. Here's hoping Flipped renewed him a bit, though, and this is more When Harry Met Sally than The Story of Us.
Any Reiner fans out there? Thoughts on the potential of The Third Act?