Is 'Full-On Horror' Next For Joel And Ethan Coen?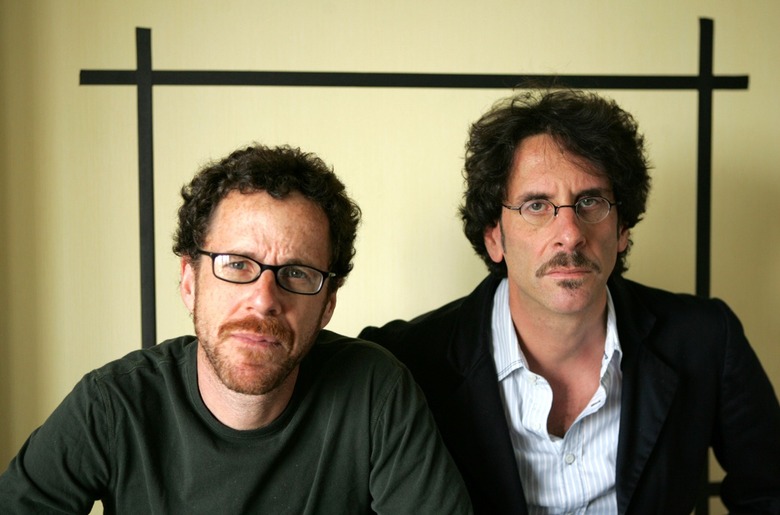 With True Grit standing as the greatest box-office success of Joel and Ethan Coen's directorial career, the question now is naturally: what next? While some (read: me) might hope that this success would finally provide a way to finance their adaptation of To the White Sea, it seems like that's not to be the case.
But there are other movies in the pipeline. One could be a pseudo-16mm documentary, and another could be called a "full-on horror movie." More details, including the (not quite serious) cast idea for the monster, after the break.
Empire talked with Ethan Coen, who explained that Gambit, soon to be directed by Michael Hoffman, was just a writing gig that they were never planning to direct. And he says that Old Fink, the once-proposed sequel to Barton Fink, can't happen because John Turturro isn't yet old enough. ("And the whole thing may be more a thought experiment than a movie," he says.)
But then there's this:
We don't really know what we're doing yet; we're working on a couple of scripts. [He is then asked about doing full-on horror.] Funny you should ask, yes, we're working on a couple of scripts now, one of which it would be fair to call a full-on horror movie. Frances McDormand is the monster.
Head asplode. Even taking into consideration the fact that the notion of making Frances McDormand (Joel Coen's wife, remember) the monster is probably a joke, this is still a serious tease. Or is the entire statement a joke? It is so difficult to tell with these guys. Sadly, we shouldn't put too much stock in this until there's confirmation of an existing script or, better, a green light.
And then there's this other possibility, which cinematographer Roger Deakins recently mentioned to CHUD. Asked about shooting the directors' next film digitally, he said,
That's interesting, because they've got a project they want to look like a 16mm Ricky Leacock, D.A. Pennebaker type of documentary, so we're not sure. We talked about shooting it on film, but the other option is to shoot it digitally and make it look like old 16mm film afterwards. I don't know.
D.A. Pennebaker is the documentarian perhaps most frequently associated with a trio of music docs: the Bob Dylan film Don't Look Back; Monterey Pop (which includes incendiary footage of Jimi Hendrix and Otis Redding); and Ziggy Stardust and the Spiders From Mars. He also made the documentary about John Delorean as well as many other films from the '60s through the present day. Ricky Leacock was a cameraman on Monterey Pop, and directed several films of his own, and took part in 1 P.M. with Jean-Luc Godard and Pennebaker.
That doc-style film sounds really intriguing, but without knowing more about the subject it's hard to tell. Granted, we don't know anything about the possible horror film, either, but knowing how well the brothers manage tone, and how they can be amazingly in command of suspense and thrills, it's easy to imagine how effective their foray into horror might be.