'Hop' Trailer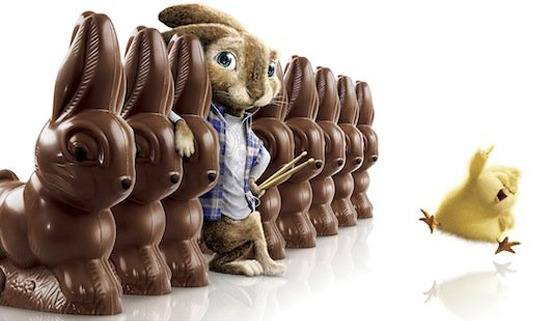 In Hop, from Alvin and the Chipmunks director Tim Hill, Russell Brand voices a CGI version of the Easter bunny and James Marsden plays the human who gets stuck taking care of him. Well, it isn't the Easter bunny exactly, but a young bunny who has been tapped to be the next global deliverer of eggs and candy. Close enough.
We've seen one teaser, which basically consisted of a CGI bunny playing drums, but now there is a full trailer. If you think you can be convinced that this idea is a good one, by all means press on to the point beyond the break.
When we first heard about the film, the idea given was that the Easter bunny ends up in the care of James Marsden, and is a difficult handful. Because Russell Brand is voicing the bunny, I guess I expected more of a drunk, devious, crazy bunny. Like a pastel Bad Santa Lite. But of course that's not what the scenario really is — it's more like the bunny is a slightly spoiled kid. Which is well and good, if you're ten. This trailer reminds me that I'm not ten, and consequently that this film isn't for me.
Apple has the trailer in HD. In addition to the aforementioned actors, Hop features Kaley Cuoco, Hank Azaria, Elizabeth Perkins, Gary Cole, David Hasselhoff, Chelsea Handler, and Hugh Laurie.
Blending state-of-the-art animation with live action, Hop tells the comic tale of Fred (James Marsden), an out-of-work slacker who accidentally injures the Easter Bunny (voiced by Russell Brand) and must take him in as he recovers. As Fred struggles with the world's worst houseguest, both will learn what it takes to finally grow up. The film is helmed by Tim Hill, director of the blockbuster Alvin & the Chipmunks and produced by Chris Meledandri's Illumination Entertainment (Despicable Me).