This Week In DVD & Blu-Ray: Paranormal Activity 2, It's Kind Of A Funny Story, I Spit On Your Grave, Tamara Drewe, And More
We may receive a commission on purchases made from links.
This Week in DVD & Blu-ray is a column that compiles all the latest info regarding new DVD and Blu-ray releases, sales, and exclusive deals from stores including Target, Best Buy and Fry's.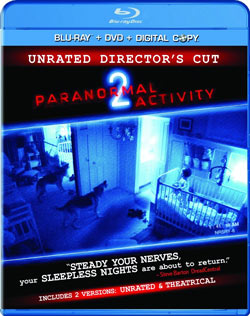 PARANORMAL ACTIVITY 2
Paranormal Activity 2 is a sequel that didn't need to exist. But since it does, I'm glad it happens to be as good a sequel as anybody could've reasonably hoped for. I recognize there are those who find it far less scary than the first film, and though I can respect the reasoning from a pacing and build-up standpoint, I can't quite fathom the logic behind it. Perhaps the problem is that I don't have any fear of ghostly supernatural forces—especially not ones inclined to spookily open doors and occasionally thump on walls. In Paranormal Activity 2, the terror becomes real, because the family is being legitimately terrorized. And by subverting expectations of how these forces are most likely to strike, the novelty of the concept is more or less retained. Furthermore, the film manages to inventively complement the narrative of the first film by directly tying itself into it. This isn't merely a rehash; the sequel actively enhances the mythology of the series. Then there's the baby and dog—obvious additions, sure, but they also give the series its two most sympathetic characters, and provide the proceedings with some truly intense moments. As much as I appreciate the original's ingenuity in the face of budgetary limitations, I think I actually like the second film more.
Available on Blu-ray? Yes.Notable Extras: DVD – Theatrical and unrated cuts of the movie, and additional scenes. Blu-ray – Includes everything on the DVD, as well as a digital copy of the film.
BEST DVD PRICE
Target
Best Buy
Fry's
$17.99
$15.99
N/A
Amazon – $15.99
BEST BLU-RAY PRICE
Target
Best Buy
Fry's
$24.99
$23.99
$23.99
Amazon – $23.99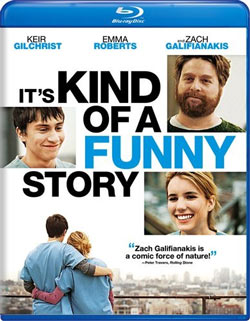 IT'S KIND OF A FUNNY STORY
It's Kind of a Funny Story means well, and is right in its conviction that middle-class teens spend more time amplifying their problems and obsessing over their future than they do appreciating life and all that they have right in front of them. It's frustrating then, that instead of earnestly exploring that theme, the film trivializes the issue (and all those relating to mental illness) to the point of being kind of insulting. If I knew of any teens in a depressive slump, I would suggest they avoid the film for fear of its glib attitude providing further suicidal encouragement. Yes, there are occasional moments of emotional honesty that surface throughout It's Kind of a Funny Story—almost all of them relating to Zach Galifianakis, in impressive form here—though more often than not it feels like it's being disingenuous while pretending as hard as possible not to be. This marks a first for writing/directing team Ryan Fleck and Anna Boden, whose humanist insights were conveyed far more thoughtfully in Half Nelson and Sugar. Something so superficial feels out of their comfort zone, like they're pandering to their intended young adult audience with rote theatrics in hopes that the underlying truth will sneak its way through. Having said all that: If you are approaching the film with a casual indifference toward its subject matter, and are merely interested in being moderately engaged by a light, easily accessible dramedy, then it's a perfectly pleasant rental. No more, no less.
Available on Blu-ray? Yes.Notable Extras: DVD & Blu-ray – Deleted scenes, outtakes, and featurettes.
BEST DVD PRICE
Target
Best Buy
Fry's
N/A
$16.99
N/A
Amazon – $16.99
BEST BLU-RAY PRICE
Target
Best Buy
Fry's
N/A
$25.99
N/A
Amazon – $24.99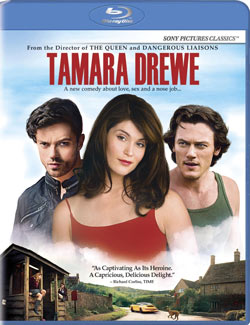 TAMARA DREWE
Tamara Drewe—directed by Stephen Frears (The Queen, High Fidelity)—is Shakespearean farce for a modern world. Capably brought to life by a charming cast of oddball characters of widely varying ages and affluence, the film is a tangled web of illicit affairs and vibrantly reckless self-indulgence that results in the expected—though nonetheless agreeably diverting—comedy of errors. It's trifling, inconsequential fare with very little sociological value, but boy is it a heap of droll fun. (Watch the trailer.)
Available on Blu-ray? Yes.Notable Extras: DVD & Blu-ray – Commentary with Gemma Arterton and Luke Evans, and 2 featurettes ("The Making of Tamara Drewe", "Reconstructing Tamara Drewe").
DVD PRICE
Amazon – $19.49
BLU-RAY PRICE
Amazon – $26.99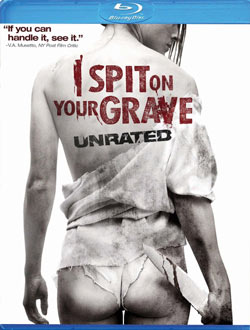 I SPIT ON YOUR GRAVE
Like Wes Craven's Last House on the Left, the original I Spit on Your Grave is a cheap-looking, clumsily made, atrociously acted rape revenge exploitation film that continues to live on due more to its controversial content and cultural impact than it being anything resembling a good movie. The former was smartly reworked into a taut, socially conscious modern exploitation thriller, and now the latter has received a remake as well. And it's shit. On a purely technical level, it's an unquestionably superior film, slickly updating the grungy '70s style to suit the needs of today's audiences. But to what end? To think that solely improving the visuals, acting and gore would somehow better serve the story is to miss the point entirely. The original film wasn't concerned with quality filmmaking or storytelling; its intent was pure ruthlessness, ripping all the dehumanizing acts of misogyny from the world and channeling it into a vicious piece of feminist anarchy. This movie, meanwhile, is a glossy bore devoid of any identifiable passion. It has nothing new to say. It has no new ways of saying it. Put simply: It has no reason to exist.
Available on Blu-ray? Yes.Notable Extras: DVD & Blu-ray – Audio commentary by director Steven R. Monroe and producer Lisa Hansen, behind-the-scenes featurette, and deleted scenes.
DVD PRICE
Amazon – $19.99
BLU-RAY PRICE
Amazon – $15.99
Other noteworthy DVD (and Blu-ray) releases this week...
Life as We Know It [DVD / Blu-ray] – You Again [DVD / Blu-ray] – My Soul to Take [DVD / Blu-ray] – Middle Men [DVD / Blu-ray] – Ong Bak 3 [DVD / Blu-ray] – For Colored Girls [DVD / Blu-ray] – Wild Target [DVD / Blu-ray] – Still Walking (Criterion Collection) [DVD / Blu-ray] – Hideaway (Le Refuge) – The Romantics – Repo Chick
Noteworthy Blu-ray-specific releases this week...Thelma & Louise – Amarcord (Criterion Collection) – Legends of the Fall – Uncle Buck – I Spit on Your Grave (1978)

NOTES: Some deals may vary by store. Some deals may be in-store only. All deals are for DVDs unless otherwise noted.

$12.99 – Blu-ray sale: The Expendables, Kick-Ass, The Dark Knight, The Final Destination, Body of Lies, Year One$4.99 – Say Anything, Wanted, Dodgeball, Righteous Kill, Love Actually, The Illusionist

$6.99 – Apocalypto, Armageddon, Can't Buy Me Love, Casanova, Enchanted, Father of the Bride Part II, Kill Bill Volume 2, National Treasure, Shaolin Soccer, Step Up 2: The Streets, Tombstone$19.99 – House M.D. (Season 4), The Office (Season 6)