Casting Bits: Brendan Gleeson In 'Safe House;' Ed Harris & Diane Keaton In 'The Look Of Love;' Cory Monteith In Caper Comedy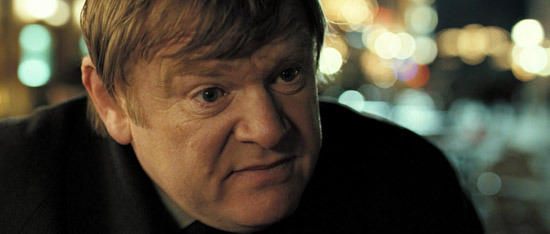 Ryan Reynolds and Denzel Washington will soon shoot Safe House, in which a CIA trainee (Reynolds) has to transport a criminal (Washington) who is under fire from other enemies. Daniel Espinosa (Snabba Cash) is directing from a script by David Guggenheim. Now the film picked up four more actors: Brendan Gleeson, Robert Patrick, Sam Shepard and Liam Cunningham. No word on the roles for the quartet, but I hope they play the team trying to take down Denzel.
The film shoots starting next week, and has a February 10, 2012 release date. [Variety]
After the break, Ed Harris and Diane Keaton book a new film, Ari Folman's The Congress gets one more, and a Glee cast member gets his own caper movie.
Diane Keaton and Ed Harris will in The Look of Love, from director Arie Posin, who co-wrote with Matthew McDuffie. The Look of Love is about "a widow named Nikki (Keaton) who, several years after the loss of her husband, mysteriously meets a man (Harris) that looks exactly like her deceased husband and suddenly finds a flood of old feelings coming back." [Deadline]Frances Fisher has joined Robin Wright and Kodi Smit-McPhee in Ari Folman's very intriguing The Congress, which is a live-action/animated blend that takes quite a few liberties as it adapts Stanislaw Lem's story The Futurological Congress. Still waiting on confirmation that Danny Huston, Harvey Keitel and Paul Giamatti have joined. The animated portion of the film has been in the works for over a year, and the live-action aspect is getting rolling now in LA. [Variety]
Finally, a few more details have come out for the film set up around Glee's Cory Monteith. Once called a workplace comedy, Badass Digest offers up the detail that it is actually a caper comedy that takes place in the workplace — Devin sets it up as Ocean's Eleven for twentysomethings. He says the general idea is that " a bunch of interns who work at a corrupt company get together to rip it off, and to bring some comeuppance to the greedy dickheads in charge, who are being described as 'Bernie Madoff types.'"