Fairy Tale Update: Julia Roberts Locked For 'The Brothers Grimm: Snow White;' Famke Janssen Joins 'Hansel & Gretel: Witch Hunters'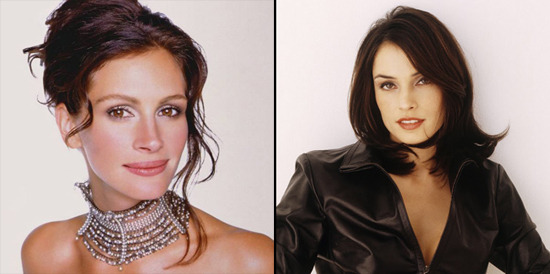 Minor news on the Snow White battle front today. We've talked twice about Julia Roberts possibly joining the cast of Relativity's The Brothers Grimm: Snow White, to be directed by Tarsem Singh. First time was when she was rumored, then when it looked like she would take the plunge. Now we've got confirmation that Tarsem's evil queen will be Julia Roberts.
No word on further casting for the film at this point, but with one of the most famous actresses in the world as the evil queen, one imagines the rest of the cast won't take long to fall into place. This also puts the Snow White battle into a more pitched mode — neither Relativity or Universal (which has Snow White and the Huntsman set to shoot) seem willing to back down. Are we really going to end up with two big Snow White revamps? [Deadline]
After the break, Hansel & Gretel: Witch Hunters also gets a female villain.
Meanwhile, as the race to get a modern, slightly revamped Snow White film to screens is currently distracting Relativity, Disney and Universal, Paramount is off playing in its own corner of the dark fantasy sandbox. The studio is assembling Hansel & Gretel: Witch Hunters, with Jeremy Renner and Gemma Arterton cast as adult versions of the fairy tale children who nearly fall victim to a witch in their youth, then grow up bent on revenge.
In this version, the adult characters spend their time hunting witches across the countryside. And now Famke Janssen has been cast as the leader of the witches against whom the title characters are working. D.W. Harper wrote the script, and Tommy Wirkola (Dead Snow) is directing, with a planned March 7 start date. [The Playlist]