'Monsters' Sequel Or TV Show To Go Ahead Without Director Gareth Edwards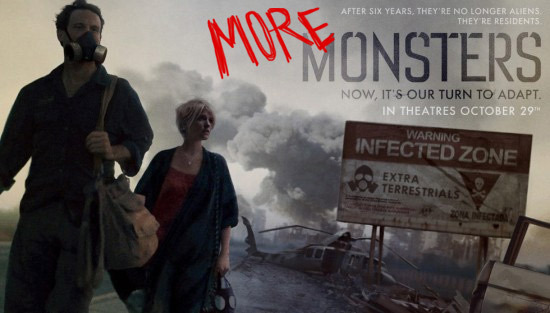 Monsters, the much-buzzed ultra low budget indie set in an alien-infested Mexico, was recently released on DVD and Blu-ray. It's too early to tell if the film will generate a cult following to reach the heights of its critical admiration, but evidently not too early to decide if a follow-up should be pursued, as Vertigo Films already has one lined up. Seemingly undeterred by an insignificant domestic response when the film was tested in limited release, the studio might be looking to appease Monsters converts overseas, where the film performed much better.
One person who won't be involved in the proceedings, however, is director Gareth Edwards, the man responsible for making Monsters a reality. Read what he had to say after the break.
Back during the summer of last year, Edwards had mentioned via Dread Central the possibility of a Monsters TV show, but even then didn't seem too invested in being a part of it.
I just don't know if Monsters in the future would involve me or not, but I do think there have been discussions about looking into a television series based on what we created with Monsters. I know I'd like to try something different for my next project and then maybe see what happens from there.
Fast forward to today, and Gareth Edwards once again opened up to Dread Central about the likelihood of another Monsters outing, shedding light on the situation as it stands now.
Vertigo owns the rights to Monsters, and I know they're keen to move forward with another Monsters-related project very soon. I'm not sure how involved I can be right now, and I don't think my next film really should be a sequel just yet. I'd like to do something else first, but I would definitely be open to returning at some point.
But I do think whoever Vertigo ends up hiring will do a great job because they really know what they're doing there. For me, if they hire someone to direct another Monsters movie, the last thing they need is for me to be hanging around, telling people how the movie should be. Whoever comes in should definitely be given free rein to put their own spin on this world, and I know they'll get the right person.
By far the greatest strength of Monsters was the world that it build around its characters, so the thought of exploring another story in that same universe is potentially an interesting one. The problem though, is that Gareth Edwards was pivotal in making those world-building elements as intriguing as they were, not to mention achieving them in spite of the film's budgetary restrictions. Without him, I have serious doubts that a Monsters sequel or TV show would be any better than your typical SyFy channel original movie.
But it sounds like that's not Edwards' concern at the moment. He already got what he needed out of Monsters: a great calling card, and studio recognition. His film debut impressed Legendary Pictures enough to put him at the helm of their Godzilla reboot, and now he's busy working out how best to approach that film. That's fine by me; I knew Edwards would be a director to look out for after watching Monsters, and to see him find success so quickly is a thrill. I can't wait to see what he does with Godzilla.
How about you guys? Any interest in a Monsters sequel or TV show, or are you more excited for Edwards' future endeavors?