Roger Deakins On Digital Vs. 35mm: "Whether I'll Shoot On Film Again, I Don't Know"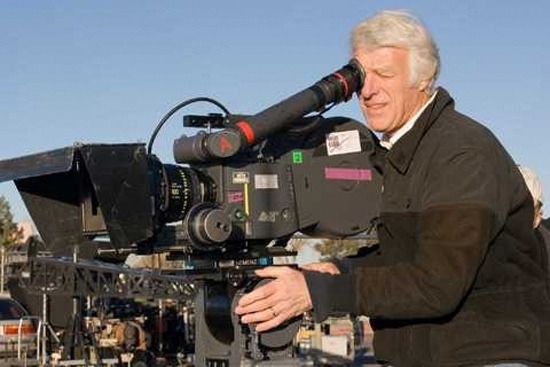 Nine-time Academy Award nominated cinematographer Roger Deakins (The Coen Brothers films, The Shawshank Redemption, A Beautiful Mind, The Reader, Kundun) has seen the future, and it isn't 35mm. Deakins has worked on film for 35 years. He is the type of veteran whom you would expect to be a film purist. Last year, for the first time in his long history, Deakins decided to shoot a feature length movie (Andrew Niccol's science fiction thriller Now) using digital video cameras, and he's not sure he'll be going back to celluloid.
/Film's David Chen talked with Deakins this month. Here is an excerpt from his interview (which we will publish at a later time):
The technology and how it's changing and the possibilities that are coming. This film Now, I'm shooting on a digital camera. First film I've shot digitally, because, frankly, it's the first camera I've worked with that I've felt gives me something I can't get on film. Whether I'll shoot on film again, I don't know. [Shooting on Digital] gives me a lot more options. It's got more latitude, it's got better color rendition. It's faster. I can immediately see what I'm recording. I can time that image on set with a color-calibrated monitor. That coloring goes through the whole system, so it's tied with the meta-data of the image. So that goes through the whole post-production chain, so it's not a case of being in a lab and having to sit and then time a shot on a shot-by-shot because this has already got a control on it that's set the timing for the shot, you know?
Am I nostalgic for film? ... I mean, it's had a good run, hasn't it? You know, I'm not nostalgic for a technology. I'm nostalgic for the kind of films that used to be made that aren't being made now.
The grain is unique, but on this film Now that I'm doing, I'm probably going to add grain for certain sequences where I feel that they would benefit having grain, just the look and the texture of it. Yeah, there are certain things about film emulsion that I love, and for certain projects, absolutely. I would certainly consider shooting film again, but you can add grain to a digital image. And, frankly, it's not the technology that makes the great movies. I mean, if you went back to see Citizen Kane and you looked at it on a big screen and you looked at the quality of the image, I mean, frankly, some of it is not very...well, good's not the right word, because technically it's not as sharp. Some of it is very grainy. The lens quality is not as good as modern lenses. But...[Laughs] it's still a better film than ninety-nine percent of what are made today. So, you know, it's not just about technique and equipment.
The camera he used was Arriflex ALEXA digital, Arri's first major transition into digital cinematography — an answer to the Red One.