WTF: 'Dogfather' Trailer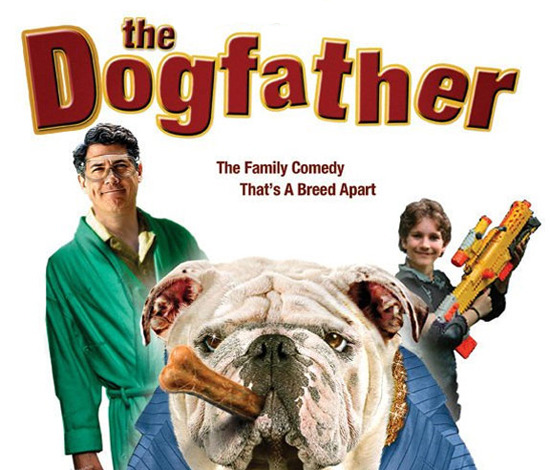 This is something to watch only if you really, really hate Chris Parnell. That means I have to stay far away. For my money, the actor is one of the secret weapons of 30 Rock — his wildly out of touch Dr. Spaceman is only deployed a few times per season, but those moments are always highlights. So I couldn't even get through the entire trailer for The Dogfather, in which Mr. Parnell plays the patriarch of a family that unwittingly takes in a pooch that was until recently the top dog in the mafia.
It's like a movie parody from 30 Rock — something like Who Dat Ninja? or Cop Out. I have nothing against family films, or even against your average quickie that really just exists to delivery a paycheck to everyone involved. As 30 Rock and Archer point out, Chris Parnell certainly deserves his check. But this one looks like it invents new definitions for pain.
Lovable bulldog Sonny becomes the target of a mafia dog hunt after swallowing a priceless ring, and running off to live with a friendly suburban family in this comedy starring SNL alumni Chris Parnell. Having a mob kingpin for a master gets Sonny plenty of perks, but when the hungry pooch accidentally ingests an irreplaceable ring, he finds out just how disloyal humans can be. Narrowly escaping the wrath of his master's henchmen, Sonny doesn't stop running until he winds up in the suburbs, and befriends 12 year old Josh. At first Josh's overburdened dad Brian (Parnell) isn't too thrilled about his drooling new houseguest, but when the henchmen dognap Sonny, he realizes that the dog has become part of their family. Now, with his family by his side and the help of some neighborhood kids, Brian vows to get back their four legged friend even if it means taking on some of the toughest criminals in the city.
[via FilmDrunk]