Danny Boyle And Simon Beaufoy May Reteam For 'Sharp Teeth', About Shape-Shifting Werewolves In Gangland LA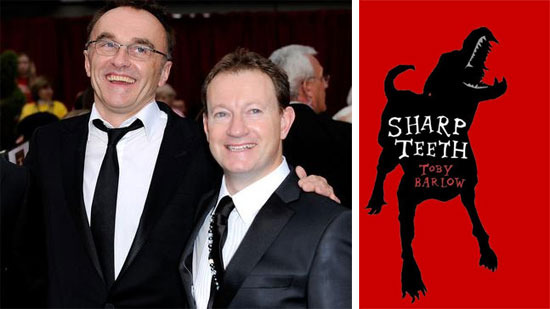 Thus far, the pairing of Danny Boyle and Simon Beaufoy has proven to be unstoppable. The writing/directing team already scored Academy Awards for their work on Slumdog Millionaire — for Best Picture, Best Directing and Best Adapted Screenplay, among others — and they're currently in the running for a whole new batch of Oscars (Best Picture included) for 127 Hours. Now Beaufoy says he's at work on his next screenplay — an adaptation of Toby Barlow's darkly comedic horror poetry novel Sharp Teeth — and if he has his way, Boyle will be directing it. Learn more after the break.
BBC America interviewed Beaufoy about the project, and he made his intentions to have Boyle direct the script immediately clear, stating simply, "If I write it well enough, he'll direct it."
Here's hoping Beaufoy lives up to his potential then, because his description of the film sounds as ridiculous as it does amazing:
It's a very extraordinary mix of gangland Los Angeles — Compton, the Watts Towers area — really, really rough, a lot of shootings. And the difference with this particular piece of work is that these gangs can shape-shift at will into packs of dogs. So it's a police procedural mixed with a werewolf film. If you get it wrong, it's a disaster. If you get right, it will be extraordinary.
Beaufoy also made mention of some of the research he'd been doing for the film, such as going out on ride-alongs with the LAPD:
It's brilliant seeing a different part of L.A.. When you're involved with the movie industry and you go to awards ceremonies you miss out on what 90 per cent of what L.A. is, which is hard-working people, lots of unemployment, lots of really difficult social issues.
Even if a disaster, I can't imagine how a Boyle-directed film about werewolf gangs in LA wouldn't at least be a disaster worth seeing on opening day. And after two Oscar-friendly pics in a row, this might be exactly the career 180 he needs to keep his filmography as weirdly eclectic as it always has been. He'd be finding himself in good company, too, as Slumdog Millionaire and 127 Hours producer Christian Colson was also mentioned as being on board should the collaboration proceed.
However, if Danny Boyle does end up doing the film — and that's a big 'if' — it will be awhile before we see it happen. He's in the midst of directing a London stage play of Mary Shelley's Frankenstein, and following that he's going to be working as the artistic director for the opening ceremony of the 2012 Summer Olympics in London. He's also expressed interest in directing the third film in the 28 Days Later series, so there's no telling where this project might fall on his upcoming slate.
Here's the official plot synopsis of the book:
An ancient race of lycanthropes has survived to the present day, and its numbers are growing as the initiated convince L.A.'s down and out to join their pack. Paying no heed to moons, full or otherwise, they change from human to canine at will—and they're bent on domination at any cost.
Caught in the middle are Anthony, a kind-hearted, besotted dogcatcher, and the girl he loves, a female werewolf who has abandoned her pack. Anthony has no idea that she's more than she seems, and she wants to keep it that way. But her efforts to protect her secret lead to murderous results.
And here's video of Beaufoy describing the book, for those interested: