'Terra Nova' Super Bowl Commercial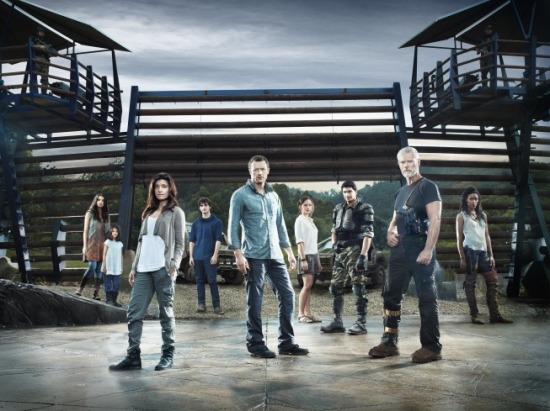 Fox released the first television commercial for the Steven Spielberg-produced sci-fi television series Terra Nova, tonight during the Super Bowl. Most of the reactions of Twitter lean towards comparisons to Lost, Avatar and Jurassic Park. If you missed the spot, you can watch it now embedded after the jump. Please leave your thoughts in the comments below.
Jason O'Mara (Life on Mars) headlines the series, which follows a family who live 100 years from now on future Earth, who are flung back in time 150 million years to the prehistoric age, when Earth was ruled by dinosaurs. Terra Nova was written by Craig Silverstein and Kelly Marcel, based on Marcel's story idea. Stephen Lang (Avatar) plays Frank Taylor, "the charismatic and ruthless leader of the Terra Nova settlement" who pegs former cop and new Terra Nova resident Jim Shannon (O'Mara) as the latest recruit for his security detail. Allison Miller (17 Again) will play Skye, a veteran Terra Nova resident who takes O'Mara's character's son under her wing. Landon Liboiron (DeGrassi: The Next Generation) will play Josh, the 17-year-old son of Jason O'Mara and Shelley Conn's characters. Naomi Scott will play his smart 15-year old sister Maddy, and Alana Mansour will be Zoe, the youngest member of the family. Both of the latter two actors are newcomers. Mido Hamada (24) and Allison Miller (Boston Legal) both have roles as well.
Terra Nova will preview during a special two-night event Monday, May 23 (9:00-10:00 PM ET/PT) and Tuesday, May 24 (9:00-10:00 PM ET/PT) on FOX. The show will then premiere in the fall.
Official Plot Synopsis:
TERRA NOVA follows an ordinary family on an incredible journey back in time to prehistoric Earth as a small part of a daring experiment to save the human race. In the year 2149, the world is dying. The planet is overdeveloped and overcrowded, with the majority of plant and animal life extinct. The future of mankind is in doubt, and its only hope for survival is in the distant past.When scientists at the FERMI Particle Accelerator unexpectedly discovered a fracture in time that made it possible to construct a portal into primeval history, the bold notion was born to resettle humanity in the past – a second chance to rebuild civilization and get it right this time.The series centers on the Shannon family as they join the Tenth Pilgrimage of settlers to Terra Nova, the first colony established in this beautiful yet forbidding land. JIM SHANNON (Jason O'Mara), a devoted father with a checkered past, guides his family through this new world of limitless beauty, mystery and terror. Jim's wife, ELISABETH SHANNON (Shelley Conn), is a trauma surgeon and the newest addition to TERRA NOVA's medical team. JOSH SHANNON (Landon Liboiron) is their 17-year-old son who is angry to leave life as he knows it behind; upon arriving at the settlement, he finds himself instantly drawn to the beautiful and rule-breaking SKYE (Allison Miller). MADDY SHANNON (Naomi Scott), Josh's endearingly awkward 15-year-old sister, hopes TERRA NOVA will give her a new chance to reinvent herself. Although Elisabeth's medical training secured the family a spot on the pilgrimage, a secret involving their five-year-old daughter, ZOE (Alana Mansour), soon endangers their place in this utopia.Upon the Shannon's arrival, they are introduced to COMMANDER NATHANIEL TAYLOR (Stephen Lang), the charismatic and heroic first pioneer and leader of the settlement. Taylor, along with his right-hand man, GUZMAN (Mido Hamada), warn the travelers that while Terra Nova is a place of new opportunities and fresh beginnings, all is not as idyllic as it initially appears. Along with blue skies, towering waterfalls and lush vegetation, the surrounding terrain is teeming with danger – and not just of the man-eating dinosaur variety. There is also a splinter colony of renegades led by the battle-hardened MIRA (Christine Adams), who is vehemently opposed to Taylor and his leadership.Even more threatening than what lies outside the protective walls of the colony is the chilling possibility that something sinister is happening inside Terra Nova. The Shannons will come to suspect that not everyone on this mission has the same idea of how to best save mankind; in fact, there may be forces intent on destroying this new world before it even begins.
The series has been given a 13-episode order. The network is skipping the traditional pilot because breaking down the pilot's sets only to rebuild them again would add too much to the already high price tag. The pilot episode is directed by Alex Graves, who has helmed the pilots for The Whole Truth, Fringe and Journeyman, as well as directing episodes of Sports Night, The Practice, The West Wing and The Nine.
via: deadline