Rumor: A Robin To Appear In 'The Dark Knight Rises'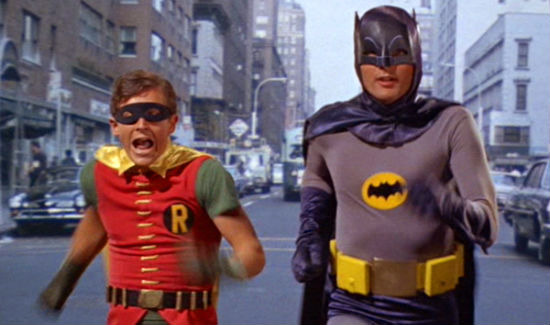 Christopher Nolan has been quoted saying Batman's sidekick Robin couldn't fit into his trilogy of films. Christian Bale said he would "refuse to go to work" if the character appeared in one of the movies. But a report from a Michigan NBC affiliate might now suggest otherwise. According to reports, location scouts for The Dark Knight Rises were in Grand Ledge, MI recently and were looking at a water treatment plant to possibly be used as "a hideout for Batman's sidekick Robin." Are the location scouts being misquoted? Could this just be a red herring? Or are they possibly referring to another Robin? Read all the possibilities and quotes after the jump.
First of all, thanks to Ain't It Cool News for coming across the report from WILX.com in Michigan. Here's what the original report said.
According to Eaton County and Grand Ledge officials who didn't want to be identified due to confidentiality agreements, production crews from "The Dark Knight Rises" scouted locations in Grand Ledge's Fitzgerald Park last week.
They looked at the Ledges as well as a water treatment plant located inside the park. Sources say the area is being considered as a hideout for Batman sidekick Robin.
Now, let's put that statement into movie geek context. First of all, before even Batman Begins, Christopher Nolan was quoted on SuperHero Hype saying the following:
This is a young Batman, so Robin's a few films....not for a few pictures anyway. Dick Grayson's still in a crib somewhere. I seriously doubt I will even be involved when Robin's in the franchise.
That's not a flat out denial, and he said it in 2005, but it seems pretty anti-Robin. Then, around the time of The Dark Knight, star Christian Bale had this to say about the character:
If Robin crops up in one of the new Batman films, I'll be chaining myself up somewhere and refusing to go to work.
Both of those quotes, however, were said way before any script was written for The Dark Knight Rises and with the addition of Joseph Gordon-Levitt as an age appropriate actor, Robin being in the film certainly seems slightly plausible, even if we already have two brand new characters: Selina Kyle played by Anne Hathaway and Bane played by Tom Hardy.
On the flip side, would a location scout let such a secretive piece of information slip out? Also, are the Michigan officials conveying what was said to them accurately?
The Daily Blam was able to find a few other quotes from the Michigan officials involved in the location scout. They found a quote in the Lansing State Journal that corroborated that the location would be used as "Robin's Cave" and even reached out to the reporter who wrote the original WILX story:
I heard from three sources, the only one who would go on camera being state Sen. Rick Jones. All three mentioned the water treatment facility being considered for "Robin's Cave" specifically. I'm not as up on my Batman lore as others but I wasn't aware that Robin got a cave. As this was just a scouting mission, I don't have any details on actors or even confirmation as to what role he'll play. I just know what my 3 sources told me. Granted the production team scouting could've given them "Robin's Cave" as a red herring.
Other possibilities are that maybe there's an actor named "Robin" who has been cast or they are using the word "Robin" because it's a bird associated with Batman and a great way to make people think one thing when they mean another.
Considering all of these factors, I'm going to stick with the most important piece of evidence: Nolan and Bale's quotes. All of the other sources might be telling the truth but none of them have read the script. Nolan and Bale have and even though those quotes were years ago, they had a better idea where the franchise was going then than a few Michigan senators do today.
Still, anything is possible in the world of Batman rumors, even if we usually get them all wrong.
Looking at all the evidence, what do you think? Is Batman's sidekick Robin in the film or is this all just a bit of misinformation?