'Take Me Home Tonight' Red Band Trailer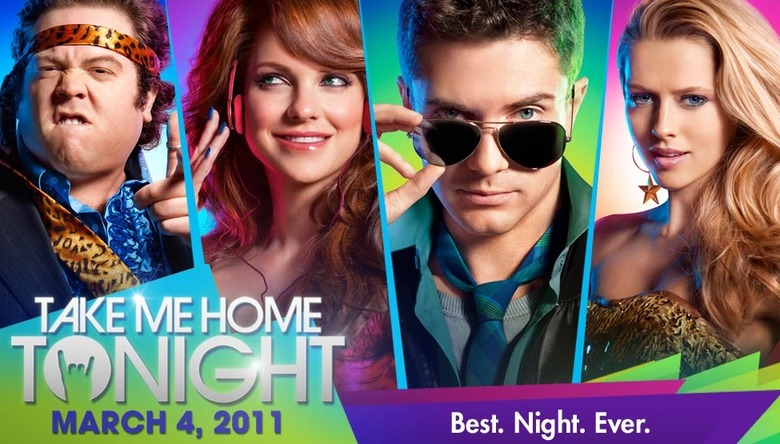 Though it feels like there have been an over abundance of nostalgic Eighties comedies, there really aren't as many as you'd think. Plenty of films in the last few decades have been set in the Eighties but only movies like Hot Tub Time Machine, The Wedding Singer, Adventureland and to a lesser degree American Psycho, Romy and Michelle's High School Reunion, Grosse Pointe Blank and 13 Going on 30 have used the decade as the butt of a joke for the full duration of a film.
You can now add a new member to that club because the Eighties are definitely the punchline in Take Me Home Tonight, an R-rated comedy starring Topher Grace, Anna Faris, Dan Fogler, Teresa Palmer, Michelle Trachtenberg, Michael Biehn, Chris Pratt, Lucy Punch, Michael Ian Black, and Demetri Martin. The film has been on the shelf for several years and will finally be released March 4. You saw the green band trailer a few months ago and now we've got the red band trailer complete with nudity, cursing, excessive drug use and more. Check it out after the jump.
Thanks to IGN for the trailer.
There's no denying that's a well cut trailer and the film definitely looks and sounds like the Eighties. If it was being released over the Summer, I'd probably be extremely excited for it. But the fact that the film has been on the shelf, had a title change and more really worries me. The potential is there if you are into some of the films mentioned above but we're going to have to wait and see.
Here's the official plot description.
As the summer of 1988 winds down, three friends on the verge of adulthood attend an out-of-control party in celebration of their last night of unbridled youth. Take Me Home Tonight is a raunchy, romantic and ultimately touching blast from the past set to an awesome soundtrack of timeless rock and hip-hop hits. Recent MIT grad Matt Franklin (Topher Grace) should be working for a Fortune 500 company and starting his upward climb to full-fledged yuppie-hood. Instead, the directionless 23-year-old confounds family and friends by taking a part-time job behind the counter of a video store at the Sherman Oaks Galleria. But Matt's silent protest against maturity comes to a screeching halt once his unrequited high school crush, Tori Frederking (Teresa Palmer), walks into the store. When she invites him to an epic, end-of-summer party, Matt thinks he finally might have a chance with the girl of his dreams. With his cynical twin sister Wendy (Anna Faris) and best friend Barry (Dan Fogler), Matt embarks on a once-in-a-lifetime evening. From stealing a car to a marriage proposal to an indescribable, no-holds-barred dance-off, these friends share experiences that will change the course of their lives on one unforgettable night in the Go-Go '80s.
Do you think Take Me Home Tonight is going to be raunchy and funny or uncomfortable, bad Eighties references rolled into a nothing story?