Page 2: Star Trek, Guillermo Del Toro, Ghostbusters, James Cameron, Elysium, David Fincher, Paul, Aliens And More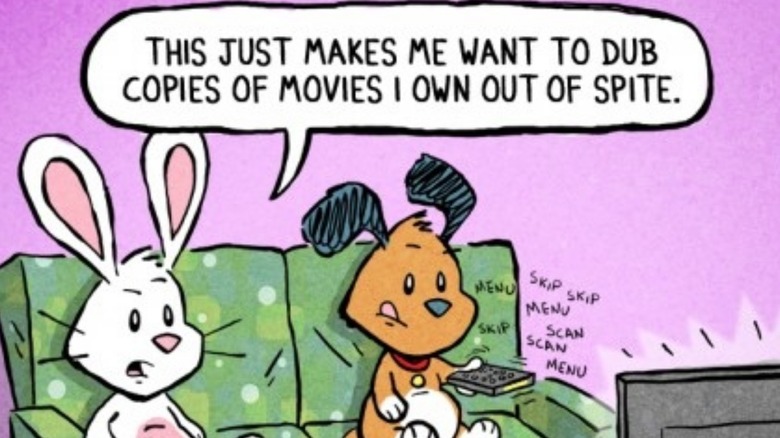 What is Page 2? Page 2 is a compilation of stories and news tidbits, which for whatever reason, didn't make the front page of /Film. We've included links here to videos, casting tidbits, articles of interest and more. It's like a mystery grab bag of movie web related goodness.
Mawgan recreated Star Trek II: The Wrath of Khan in 60 Seconds using paper cubedudes.
Toy Story 3 director Lee Unkrich reports that Randy Newman will be performing "We Belong Together" live at the Academy Awards.
What is movie posters featured more truthful taglines? [shiz]
Summit wants bankrupt Blockbuster to pony up $9.5 million in unpaid bills or else liquidate its assets. [wrap]
James Cameron defends 3D against Roger Ebert and Walter Murch's criticisms in an interview with Box Office Magazine:
"Here's an interesting fact that Walter Murch should be aware of. Early childhood researchers have found through brain scans that babies who are reacting to social scenarios, if they can have a social scenario play out, like somebody talks to the baby's mother, the baby will become very interested in the new person talking to the mother as opposed to if the new person enters the room alone, the baby won't be interested. Right? Now, you take that same social scenario and you video it, you put it on a screen in front of the baby at the same distance so that the subjects are the same size. Is the baby interested in the new person? Not at all. It's the same image, it's the same interaction. What's going on? Scientists put it in the following terms: The baby knows that the flat picture is symbolic and can be ignored, but the true scenario cannot be ignored—it is important.  Now, what if the same thing is happening in a movie theater? What if we are being triggered at a deeply subconscious or preconscious level that what is happening cannot be ignored? It's not symbolic, it's not like a painting, but it is something real. Now we know it's not real, we know it's a movie. We paid for a ticket and we're sitting in a movie theater wearing dorky glasses. But what if our brain is being fooled at a deep neurological level that what's happening is real, even a little bit? Does that account for the heightened experience of 3D, and the resurgence of cinema and the fact that all exhibitors are resoundingly saying '3D is saving our business when we're being eroded and randomized by downloading and piracy and streaming and other media sources?' I would say the answer is pretty freaking resoundingly yes."
Due to the amount of graphics and images included in Page 2, we have to split this post over a FEW pages. Click the link above to continue the second page of Page 2.
Bloody Disgusting has posted the Spanish one sheet for Caperucita Roja (aka Red Riding Hood).
David Fincher on emotion vs. sentimentality:
"I don't buy this notion that emotion and sentimentality are the same. You won't see me on Barbara Walters; Oprah, that's not who I am. I don't like sentimentality because I don't like movies that 'tell' me — I want to engage in a movie that says, 'Here it is.' It's not a colder point of view; that's reductive. It's more adult." [THR]
Disney has released a new animated preview map showing what the California Adventure theme park will look like after the new changes are completed.
Disney World has revealed the dates for Star Wars Weekends 2011 at Disney's Hollywood Studios in Florida. Friday-through-Sunday Event Dates:
Chris Thornley created a poster for Martin Scorsese's Mean Streets. [reelizer]
Jodie Foster says the role in Neill Blomkamp's Elysium isn't a done deal yet. [playlist]
Watch the movie trailer for the indie drama Yelling To The Sky, which stars Zoe Kravitz and Gabourey Sidibe. [indiewire]
This is what comic actor Russell Brand looked like as a kid. [filmdrunk]
Empire Magazine has a clip from the sci-fi comedy Paul, featuring Simon Pegg, Nick Frost, Kristen Wiig and Seth Rogan as a computer generated alien.
Watch another clip on The Guardian.
Amber Heard (Zombieland) and Naturi Naughton (Highland Park) have been cast as the leads in the new NBC drama pilot Playboy. [deadline]
And here's how Aliens should have ended...
Complex lists the top 50 comic book movies of all time... wait, there were 50 comic book movies produced?
Jimiyo created a Street Fighter/Back to the Future mash-up t-shirt. [fashionablygeek]
Bloody Disgusting lists the Top 12 Horror Movies that Deserve a Criterion Release.
Tom Whalen created this poster for The Terminator for The Colonial Theatre. [strongstuff]