'Ghostbusters III' Update: Still Waiting On Bill Murray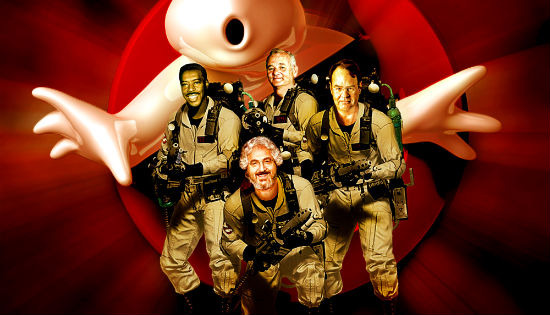 When we last left the long and arduous development-hell known as Ghostbusters III, everything hinged on the shoulders of one man: Bill Murray. A script by Lee Eisenberg and Gene Stupnitsky was reportedly sent to Dr. Peter Venkman himself a few months ago and Sony will only move ahead with the movie if Murray signs off on it.
The latest update is that there is no update. Murray supposedly hasn't even read the thing yet. But two men with knowledge of the film have recently spoken out about the situation. Producer Joe Medjuck attended a screening of Ghostbusters at Arclight Cinemas in Hollywood last week and co-writer Eisenberg spoke at his alma mater Connecticut College. Each offered their thoughts on the current state of the film.
Hit the jump to read their quotes about Murray, developing the script, watch a video of the Q&A and see the full fan-made poster glimpsed above that was created by "Gh0stbuster."
Before we hit you with all the potentially disconcerting news, let's just look at this poster by Gh0stbuster to fill us with hope and possibility. Thanks to NerdBastards for the heads up.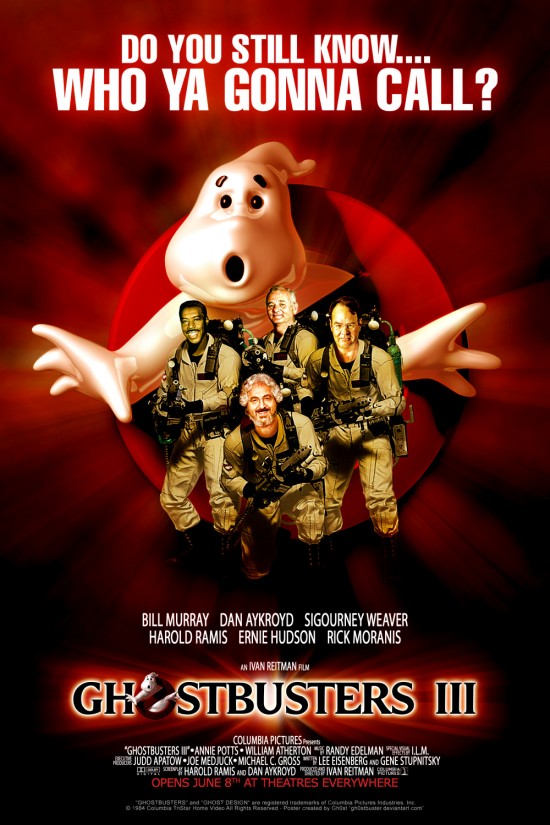 Back to the news. Screenrant reported on Eisenberg's appearance in Connecticut and here's his quote:
Right now, we have a script we haven't worked on probably in a couple of months, and we're waiting for Bill Murray to read it. People seem excited about it, and the studio seems high on it. ... We're very proud of it. We worked really hard on it, and I think it'd be a really fun movie.
If the film does get made, while Eisenberg and partner Stupnitsky wrote the script, many of the former Ghostbusters will get credit too:
We've been working really closely with Ivan Reitman for a couple years on it. Dan Aykroyd has been really involved. Harold Ramis has been very involved — we're sharing a story credit on it with him. Then we reworked the script. I mean, that script went through a lot of rewrites, and it kept getting, we think at least, tighter and funnier. It took a little bit to really understand the tone of a movie like Ghostbusters. It's really scary when you're writing characters you grew up on. ... The last thing you want to do is disappoint.
Arclight Cinemas held a screening of the first film and afterwards held a Q&A with producer Joe Medjuck, actor William Atherton, creature designers Steve Johnson (designer of Slimer and the guy who puts out all those awesome behind the scenes videos) and Billy Bryan (the Stay Puft Marshmallow Man). You can watch the whole Q&A here and after, we'll highlight the main Ghostbusters III quote.
Here's Medjuck's quote:
Sony says they'd like to make it, everyone thinks it's a good script. Bill has heard it's a good script, but he hasn't read it. Bill's like that – he just says he's busy.
If you watch the Q&A, you'll realize that Murray is like that. He apparently didn't read the script for the first film until he got on set and only read a few pages of Groundhog Day before he started shooting. Seems insane.
Do you think Murray really hasn't read the script yet? If not, when do you think he'll read it and do you think he'll actually like it?