Upright Citizens Brigade's 'Freak Dance' Trailer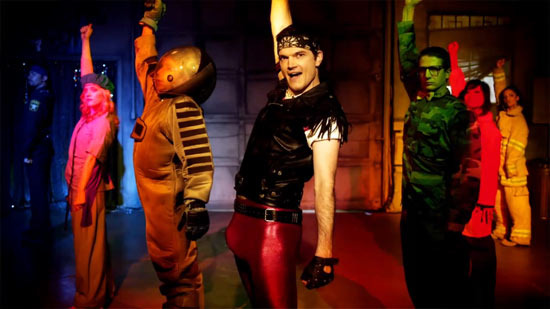 UPDATE: As co-writer/director Matt Besser has explained in the comments below, the trailer went public prematurely and it's been taken down until a release date has been secured. We'll update when it's live again.
For all those who have grown weary from the constant surge of spoofs that rely more on topicality than actual jokes, this could be the antidote. From the creators of the Upright Citizens Brigade comes Freak Dance, a self-described "hilarious, in-your-face major motion picture musical about good, evil, dance, saving dance from evil for good, and the greatest love story ever told...about dancers".
If the film bears any similarity to the Wayans brothers' latest spoof Dance Flick, pay no mind. The UCB — a frequently hilarious improv and sketch comedy group whose TV show ran for three seasons on Comedy Central in the late '90s — first developed Freak Dance as a live show well before that movie existed, and it played so well that now they've made it into a movie. Watch the trailer after the break.
I'm a fan of Upright Citizens Brigade — and in particular Amy Poehler — so naturally I'm already biased in favor of the film. It looks like an absurdly silly good time, and more importantly, it looks funny. (The "Safety Dance" bit is gold.)
Best of all, the film makes great use of terms like "pennis-rubbing" and "rapey".
Watch the trailer below.
Is anybody else as psyched as I am that this is a legitimate musical? Normally the only time we get to see musical comedies is when Trey Parker decides to grace us with another movie, so to find out this would be one was a nice surprise.
Freak Dance is written and directed by UCB co-founder Matt Besser, and co-directed by Neil Mahoney. It stars familiar faces such as Amy Poehler, Tim Meadows and Horatio Sanz. No release date is currently set.
Here's the plot synopsis for the UCB live show, which also describes the film to a tee:
Yo yo, step into the streets...of BROADWAY! This new hilarious, no-hold barred musical spoof takes a jab at every teen dance movie of the last two decades. Watch the clique "rich bitch" try to join the ranks of the poor street dancers, and fall in love with the leader of this rag-tag bunch, Funky Bunch. Join an epic battle between good and evil, as "the Fantazies" go head-to-head with "Dazzles", two waring dance troops, the Fantasies, in dance fight battle royale, as only UCB could bring.