Robert Forster Playing Ronald Reagan In One-Man Stage Show And Film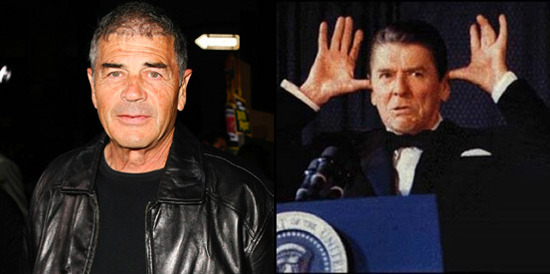 There is a rather rare, very specific film subgenre that we rarely have a chance to discuss: Single-Actor Films Based on One-Man Stage Plays About US Presidents. There is Secret Honor, for instance, in which Philip Baker Hall did a magnificent job as Richard Nixon for director Robert Altman. And there is Give 'Em Hell, Harry!, in which James Whitmore played Harry S Truman.
Now the producers of that film, David Permut and Mark Travis, are assembling a stage play about Ronald Reagan, called The Lifeguard: Ronald Reagan and His Story. They've hired Robert Forster to play the one and only role, and he'll carry that forward into a screen version, too.
Deadline says that the producers "plan to follow the template they established with James Whitmore and Give 'Em Hell Harry," which means they'll do a touring stage show, and then film a version to release to theaters. Rehearsals for the play start March 1. Peter Hunt is directing the play, and presumably the film. The arc of the play "covers Reagan's rise from humble beginnings to Screen Actors Guild president, California governor and iconic U.S. president."
(Note #1: Distributors weren't much interested in Give 'Em Hell, Harry!, so the producers did with the film what Kevin Smith is doing with the first run of Red State. They four-walled it, the film made over $10m  — in 1975 — and scored an Oscar nomination for James Whitmore. If this movie has to be four-walled, just advertise it to the Conservative base and it could do massive business.)
Robert Forster is one hell of an actor. One of my favorites, really. He's a guy who is a joy to see in any role a filmmaker cares to hand him. We'll see him soon in Alexander Payne's The Descendants, and he's got a role in the J.J. Abrams-produced pilot Alcatraz. But this is a totally different thing. A role like this, playing a President like Ronald Reagan, is the sort of gig that actors must imagine they'll get only in glorious dreams. And there are a lot worse things one could do than invite comparisons to Secret Honor and/or Philip Baker Hall. Does Mr. Forster look much like Reagan? Not really, but I have faith he can do quite well with the role.
(Note #2: The play is by CSI writer and playwright David Rambo, who developed the text with the cooperation of the Reagan estate. How incredible is the idea of the story of Reagan written by a guy named Rambo? I can't be the only one who thinks that is awesome.)