New 'Drive Angry 3D' Red-Band Spot Rejects Award-Season Prestige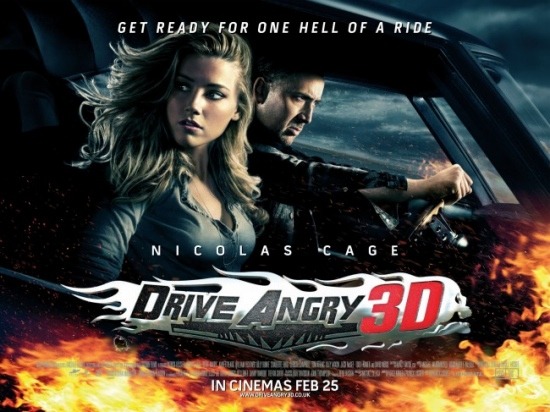 Are you sick of all the high-minded ads for films hyping up the awards season praise that has been piling up for some? Then this might be your antidote. A fresh red-band clip for Drive Angry 3D has been shot out of the UK like a magic bullet. It is full of blood, explosions and a few boobs. Most of the footage is stuff we've seen before, only this time it is edited to go just a bit farther. Check it out if you want to see a man's hand blown off.
This isn't likely to be any sort of modern classic, but given that major studios don't often tend to back movies like this any longer, it is refreshing for an old genre fan to see all the faint exploitation overtones in this one. The cast (Nicolas Cage, Amber Heard, William Fichtner) is good enough, but pair that with all the stuff that makes a disposable, messy R-rated action movie fun, and Drive Angry 3D gets two hours of my life.
DRIVE ANGRY 3D Official Info:
Cast: Nicolas Cage, Amber Heard, William Fichtner, Billy Burke
Written by: Todd Farmer & Patrick Lussier
Directed by: Patrick Lussier
Date – February 25, 2011
Synopsis -
In the high-octane, 3D action-adventure DRIVE ANGRY, Nicolas Cage stars as Milton, a hardened felon who has broken out of hell intent on finding the vicious cult who brutally murdered his daughter and kidnapped her baby. He joins forces with Piper (Amber Heard) – a sexy, tough-as-nails waitress with a '69 Charger, who's also seeking redemption of her own.  Now, the two of them are hot on the trail of the deadly leader of the cult (Billy Burke), all while being pursued by an enigmatic killer (William Fichtner) who has been sent by the Devil to retrieve Milton and deliver him back to hell. Caught in a deadly race against time, Milton has 3 days to avoid capture, avenge his daughter's death, and save her baby before she's mercilessly sacrificed by the cult.
[IGN]