Joss Whedon-Alum Morena Baccarin Leads Short List For Nick Fury's Assistant In 'The Avengers'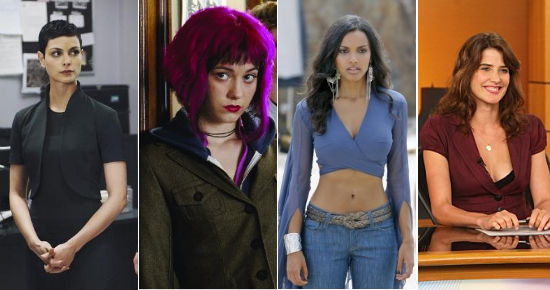 Update: I've heard from reliable sources that Mary Elizabeth Winstead is not testing for The Avengers.
Nick Fury himself, Samuel L. Jackson, recently told Jimmy Fallon that he would be doing tests with "like five" different actresses who are up for a yet-to-be-cast role in Joss Whedon's The Avengers. That role is for Fury's assistant and The Hollywood Reporter says four of the actresses who will be testing are Morena Baccarin (who has previously worked with Whedon on Firefly and Serenity and is now seen on V), Mary Elizabeth Winstead (Scott Pilgrim vs. The World) Jessica Lucas (Cloverfield) and Cobie Smulders (How I Met Your Mother).
Read what little else we know about the role and do some speculating after the break.According to The Hollywood Reporter, each of the actresses have to negotiate a "test deal" and "the test deals for the role involve a nine-picture option, so whoever snags the role has a chance to be seen in subsequent Marvel movies. There is also a 30-day hold on the actresses."
It seems like Marvel is really hoping to avoid any kind of second guessing when signing up someone to join their universe. There will be no Michael Keaton/Val Kilmer/George Clooney/Christian Bale recasting here.
But why take such incredible precautions for a simple role like an assistant? Well, in the article we posted earlier today Adam speculated on that point:
Could this be Wasp, or the role that Demi Lovato was rumored to be up for, or one of the other main female roles that will hopefully balance out the team's excess of machismo?
We'll have to wait and find out. But out of all of those actresses, you'd have to think Baccarin has the leg up. She's already worked with Whedon, she's got a familiar face but isn't quite a star, and has proved both on Firefly and V, that she has both beauty and the ability to kick ass. The other actresses have many of those characteristics too, but having worked with Whedon is a huge leg up.
Who do you think this role is in the Marvel Universe? And which actress should they cast?