Page 2: Groundhog Day Edition (And Much More)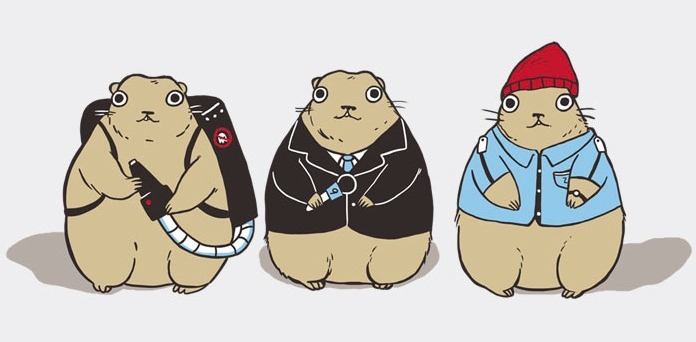 What is Page 2? Page 2 is a compilation of stories and news tidbits, which for whatever reason, didn't make the front page of /Film. After the jump we've included 24 different items, fun images, videos, casting tidbits, articles of interest and more. It's like a mystery grab bag of movie web related goodness. If you have any interesting items that we might've missed that you think should go in /Film's Page 2 – email us!
LOLMart is selling a t-shirt of three groundhogs dressed like three of Bill Murray's memorable roles.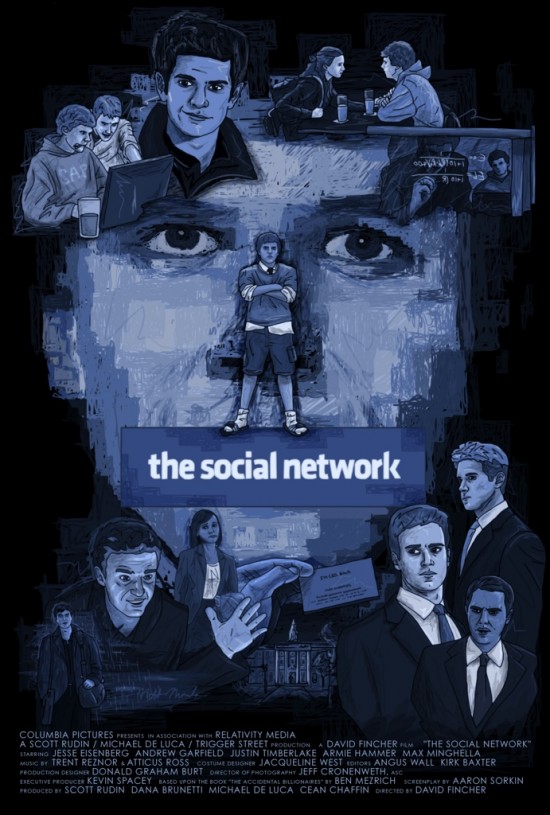 /Film reader Matt Merenda created a poster for The Social Network. Here is explanation from the artist: "Took a cue from that great Citizen Kane still of Orson Welles in front a giant picture of his own face, and since this movie is all about power, I wanted to try something with it.  If you can find a place on your site for it, I'd really appreciate it." [flickr]
Christopher Nolan quoted after receiving the inaugural Visual Effects Society's  Visionary Awards last night: "I'm often quoted in the press talking about visual effects like an actress talks about her use of botox... I know visual effects people pride themselves on doing the impossible. I'd just like to encourage you to say no to the unreasonable..." [deadline]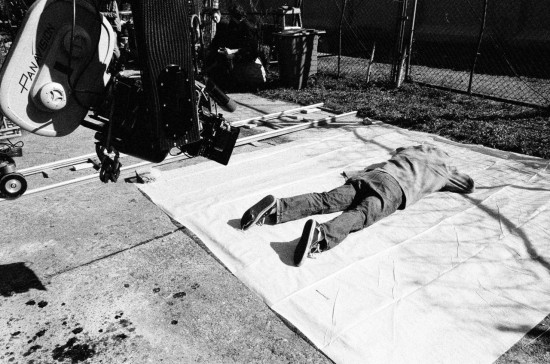 Rian Johnson has posted another behind the scenes photo from his science fiction movie Looper.
Eddie Izzard, Elijah Wood, Donald Sutherland will star in a two-part Treasure Island miniseries for Syfy. [variety]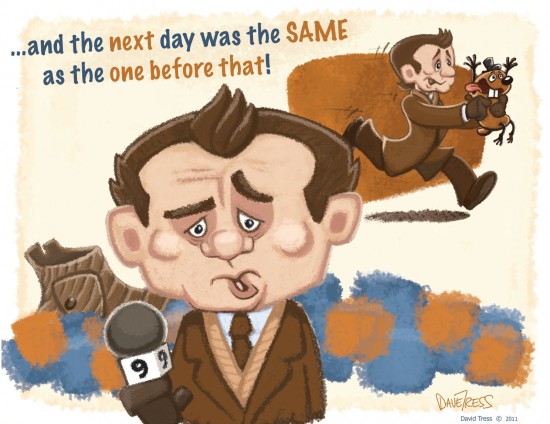 /Film reader David Tress created this nice Grounghog Day image.
Alyssa Milano has joined Garry Marshall's romantic comedy New Year's Eve. [variety]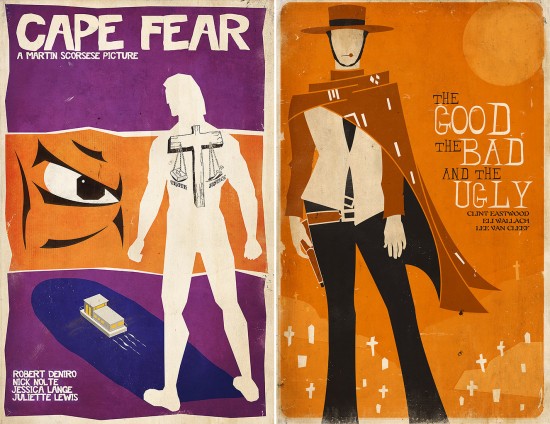 Check out Ben Whitesell's posters for Martin Scorsese's Cape Fear and Sergio Leone's The Good the Bad and the Ugly. [flickr]
The final Oscar ballots were sent out today. [wrap]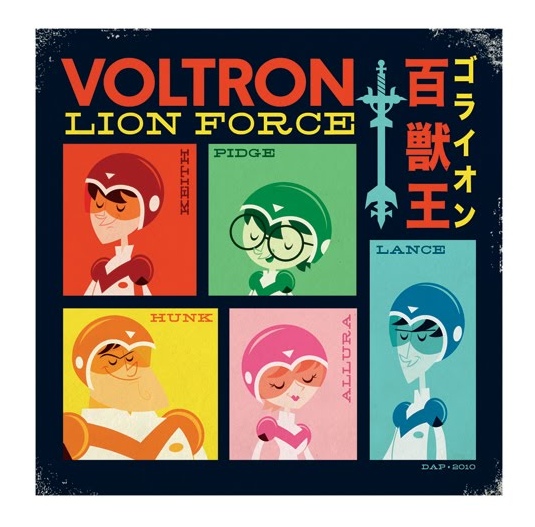 Dave Perillo has created this piece for an art book based on the classic animated series Voltron: Defender of the Universe. [montygogs]
Buzzfeed lists 12 Things You Probably Didn't Know About The Movie Groundhog Day.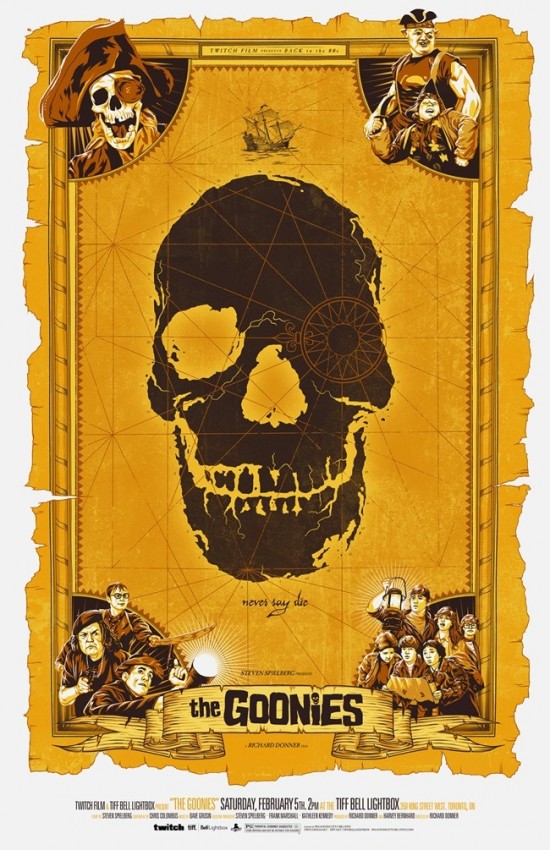 This awesome poster for The Goonies was created by Justin Erickson of Phantom City Creative for a Twitch/TIFF screening of the film. Unfourtunately, no copies of the one-sheet will be made available for sale.
Due to the amount of graphics and images included in Page 2, we have to split this post over a COUPLE pages. Click the link above to continue the second page of Page 2.
Watch one man perform the theme song from Ren and Stimpy.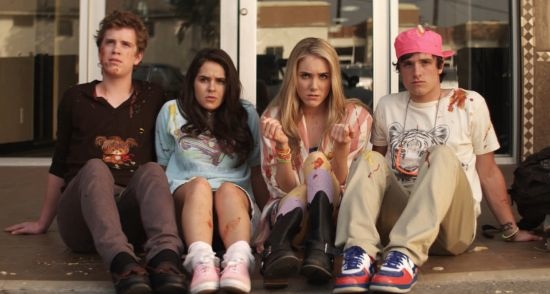 Here is the first photo from Joseph Kahn's slasher film Detention: "In the film a downtrodden 17-year-old girl is sent to detention where she must survive a slasher film killer and save the world in time for prom!" [Bloodydisgusting]
Scream 4 director Wes Craven talks to EW about additional photography: "They're not reshoots. We had a couple test screenings and we saw two scenes where they had moments you could add to and we just saw a spectacular opportunity. Bob [Weinstein] just said to me basically, 'You go to your dark side and I'll give you the money!' [Laughs] The two scenes were really good, but we saw how they could be spectacular, so we thought, let's just go for it. They were key moments of the script, so we just decided to go back and go for the grand slam on them." As for reports of the ending being reshot: "No, the ending is totally kick-ass. We're not gonna touch that. [The scenes being added to are] one scene that's kind of in the late beginning and one scene that's a little bit later."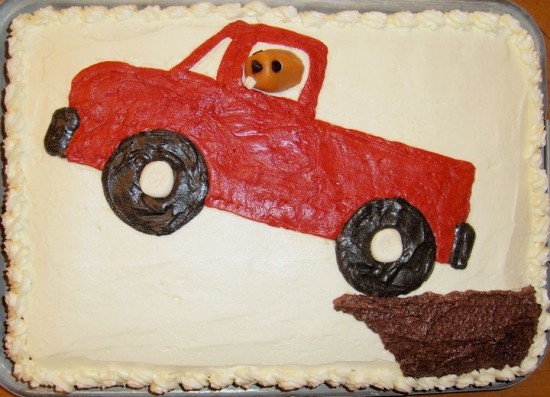 Someone created this awesomely bad Groundhog Day cake. [epicponyz]
Stephen Tobolowsky blogs about how Groundhog Day changed his life.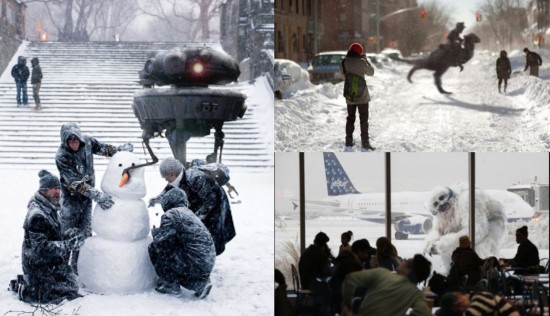 Colin Mcgreal created some Star Wars Hoth mash-up images with photos he took of the recent East Coast snow storms. [onecoolthingaday]
Time Warner might charge Netflix and Redbox more for DVDs. [thr]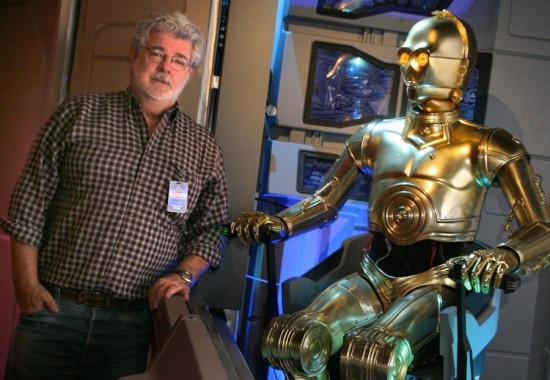 George Lucas and Star Wars producer Rick McCallum visited Disneyland to test ride the new Star Tours 2.0 ride (which opens on May 20th 2011). DisneyBlog reports that both gave the new ride a thumbs up.  The photo above features George posing inside the remodeled motion simulator vehicle, the Starspeeder 1000 with C-3PO in the cockpit area.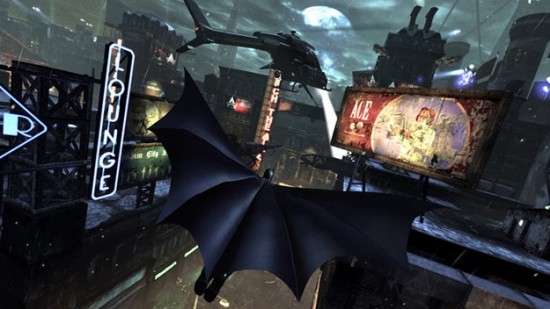 SHH has some new screenshots from the Batman: Arkham City video game.
HBO Documentary Films has acquired worldwide rights to Jerry Weintraub documentary His Way. [thr]

Savage Chickens presents a Terminator/Groundhog Day mash-up.