/Film Visits The Set Of 'Pirates Of The Caribbean: On Stranger Tides'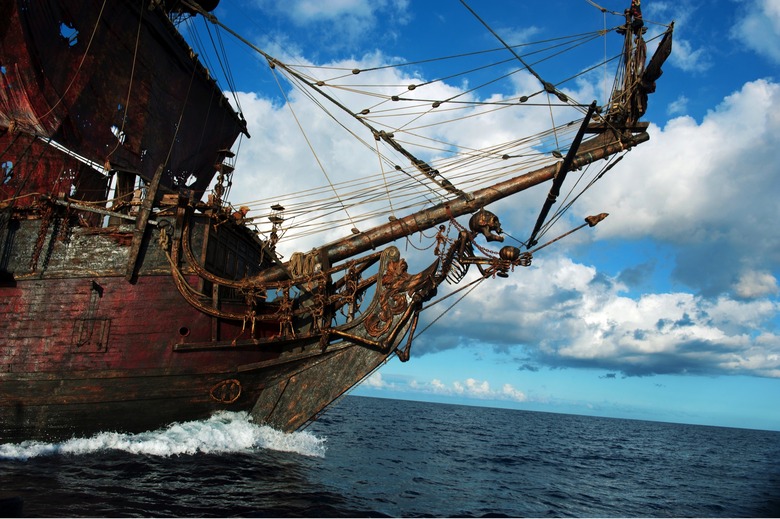 In October 2010, Walt Disney Pictures invited us to the London set of Pirates of the Caribbean: On Stranger Tides. We spent two days at Pinewood Studios learning about the movie, interviewing the cast and crew, exploring the sets, and more. After the jump you will find a set of video blogs I recorded with Frosty from Collider. We also conducted interviews on the set, which I will be posting over the course of the next week.
New images:
Here are my brief thoughts:
Unlike the prior sequels, it appears they actually locked a screenplay down before they began building sets (and not the other way around). This is a good sign (I'm not joking).
I was uninterested in Orlando Bloom and Keira Knightley's characters in the sequels, and this film is being pitched asa stand-alone adventure with Jack Sparrow (which isn't TOO broad).
The tentpole action sequences we learned about seem like fun, but the series didn't really have a problem in this department.
My big concern is that we weren't told much about Penélope Cruz's role in the story, and considering she is co-starring, this is somewhat concerning. Studios tend to hide what isn't working or completely figured out. We don't even see much of her character in the trailers either.
I'm sensing great things from Ian McShane as Blackbeard. The set and costume design for his character are inspired.
We have split the video blogs up by day. Unfortunately Disney doesn't allow us to video tape on set, so what you get is our detailed recount of everything we saw and learned. I have included chapter markers for those of you who want to hear about certain aspects of the production. For example, if you just want to hear our bottom line thoughts on the film, jump to the 29:00 in the second video. I feel there is a lot more information revealed in the second video blog as we talk about what we learned from talking to the cast and crew.
We have also rendered both video blogs as audio blogs for those of you who just want to listen on the go: Day One and Day Two.
Day OneChapters
00:30 Introduction
01:28 Thoughts on the previous Pirates films
02:20 Previewing Pirates 4
04:00 Bus Ride to Pinewood Studios
05:22 Arrival at Pinewood Studios
05:30 Brief Recap of Day One
08:00 The three acts of the movie
08:45 Shooting in 3D
10:25 Visiting the sets from the beginning of the movie
12:15 Captain's Daughter's Pub
17:15 Production designer John Myhre's funny Timur Bekmambetov story
20:20 Blackbeard's cabin
27:00 The underwater stage
29:07 Jack Sparrow meets King George
Day TwoChapters
02:00 Sam Claflin as Philip
06:30 Astrid Berges-Frisbey .as Syrena the Mermaid
07:30 Rebuilding the Hawaii Location on the Universal Backlot
11:25 Screenwriter Ted Elliott
15:45 Producer Jerry Bruckheimer
18:03 Watching the filming of the scene where Jack Sparrow meets King George in St. James Palace
23:50 Visting the Costume Department with Academy Award winning costume designer Penny Rose
26:20 Secret cameos unveiled?
29:00 Our final thoughts on the film after being on set for two days