Zach Galifianakis In Talks For 'R.I.P.D.'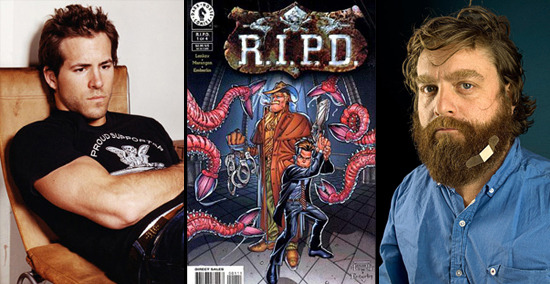 Over the past year we've seen Ryan Reynolds take one superhero identity thanks to Green Lantern, but he's kept a couple of sideline comic book properties as possible follow-ups for the DC picture. One is Deadpool, at Fox, and the other is R.I.P.D., an adaptation of a Dark Horse comic that Red director Robert Schwentke is attached to direct.
There was a point where Ryan Reynolds suggested he might have to choose between Deadpool and R.I.P.D., and now the fact that R.I.P.D. has just attached Zach Galifianakis leads to the idea that it might be the picture that gets the green light first.
The LA Times says that the comic is in talks to play 'the co-lead' in the movie. That would make for quite a picture; he and Ryan Reynolds would be (un)dead cops in the Rest in Peace Department, with Reynolds playing the character looking for revenge against the men who murdered him. The site says the film is believed to be tentatively set to shoot this summer, but Universal hasn't been willing to comment on the development.
Here's what producer Neal Moritz said about the film last year:
It's about two cops, one recently dead and a gunslinger who's been dead for hundreds of years who work on the Rest in Peace department – which is the police department of the dead. And they basically... it takes place on a normal day and it's about trying to keep the dead quiet.
And here's the official synopsis of the comic:
Welcome to the Rest In Peace Department — the devoted, yet dead, officers of divine law enforcement "patrolling the deadbeat...reporting to one boss." Yep — THAT boss. Nick Cruz was murdered by an unknown assailent, at the height of his personal and professional life. Now he's traded a hundred years of service to the R.I.P.D. in exchange for a shot at finding who killed him. Unfortunately his search will take him to Hell and back — literally!