This Week In DVD & Blu-Ray: Let Me In, Never Let Me Go, Monsters, And More
We may receive a commission on purchases made from links.
This Week in DVD & Blu-ray is a column that compiles all the latest info regarding new DVD and Blu-ray releases, sales, and exclusive deals from stores including Target, Best Buy and Fry's.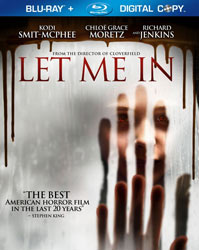 LET ME IN
How you respond to Let Me In will depend almost entirely on whether or not you've seen the original. On a purely technical level, its craft is unquestionable. Director Matt Reeves has thoughtfully and skillfully reconstructed Let the Right One In for American audiences, maintaining the solemn mood and tender intimacy of the boy-girl relationship that made the original so heartbreakingly compelling. But that's also the problem: the film is strictly an imitation. Save for some narrative streamlining and one astounding new set piece, this movie lacks any identity of its own. It is nearly a shot-for-shot remake, and it makes very little attempt to differentiate itself. Because of this, anyone who has seen and loved the original (as I did) will find it nearly impossible to divorce themselves from the material. Which is a shame, really, because it many ways the film is an improvement over its predecessor. Reeves managed to not only identify what worked so well in the original and recreate it with better actors, but he also found what was lacking and axed it completely. In spite of this, my loyalty to the original—or rather, originality in general—prevents me from recommending the film to the same extent that I did that film. And even if you haven't seen Let the Right One In, I would still suggest viewing that film prior to this one. For me, it was the original's relaxed, indie sensibilities that allowed for the film's now-iconic moments to resonate so vividly, bringing an unexpectedness to the brief yet startlingly effective action beats. Moreover, the shots themselves were decidedly more quiet and restrained, which in turn made them all the more haunting. Had I seen Let Me In first, I am doubtful that the film would've struck a chord with me in the same way Let the Right One In did.
Available on Blu-ray? Yes.
Notable Extras: DVD – An audio commentary with director Matt Reeves, featurettes ("From The Inside: A Look at the Making of Let Me In", "The Art of Special Effects"), unrated deleted scenes, and a Car Crash Sequence Step-by-Step. Blu-ray – Includes everything on the DVD, as well as a Dissecting Let Me In feature, and a digital copy of the film.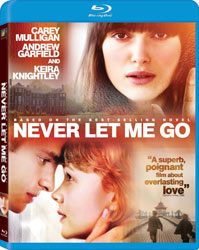 NEVER LET ME GO
Mark Romanek's Never Let Me Go is an elegantly made film. It has a beautiful score, lovely cinematography, fine performances and a disquieting, thought-provoking premise. By all measures of quality filmmaking and storytelling, it should be a winner. And for a while it is, too, with an immediately riveting young romance—which unfolds alongside an unfortunate discovery about the reality of these kids' situation—capturing both my heart and my diligent attention. But then the movie jumps forward in time. And then it jumps forward again. And again. The longer the movie went on, the more I felt emotionally disconnected from it. Perhaps that's the point. In either case, the deep interest I had in the film at the outset had faded by the end, leaving me unmoved by the time the films reached its inevitable climax. The film seems intent on keeping you at a distance; so much of the growth of the film's characters takes place between the spots in time we don't get to see, preventing me from being as invested in the relationship conflicts as I would've liked to be. A number of critics apparently felt the same.
Available on Blu-ray? Yes.
Notable Extras: DVD & Blu-ray – The Secrets of Never Let Me Go, Mark Romanek's On-Set Photography, Tommy's Art, and National Donor Programme & Hailsham Campaign Graphics.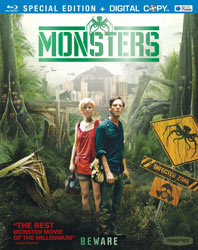 MONSTERS
(DVD available as single-disc and 2-Disc Edition + Digital Copy)
In order to truly appreciate the achievement of Monsters, it's important to go into it with the right context. This passion project was shot entirely on location, with almost no script, for well under half a million dollars. The result isn't perfect, but it's an undeniably impressive and audacious debut, finding ways around its inherent filmmaking limitations through smart direction, crafty camera work and expert sound design. Think of the film as Before Sunrise set in a post-Cloverfield world. Therein lies the film's biggest strength and its biggest weakness: With the exception of an unnecessary and intrigue-deflating opening title card, the world-building of Monsters is fantastic, gradually unveiling aspects of this fully realized aftermath through subtle use of locations and a casual acceptance of the world by its characters. Where the film falters is its romance, which is competent at best, and annoying at worst. And being that the film is foremost a romance—seriously, don't go in expecting a ton of action—that really hurts the picture as a whole. Luckily, the film's final moments redeem any missteps, closing it on a graceful and effectively poignant note. But I should reiterate: If you don't have any interest in judging a film relative to its budget, you may have a hard time engaging with Monsters. If, however, you are willing to view it as what it is—an amateur effort that was never expected to receive a theatrical release—it's easily one of the more interesting efforts to come out of 2010.
Available on Blu-ray? Yes.
Notable Extras: 2-Disc DVD & Blu-ray – Making of featurettes ("Production on Set", "Editing", "Visual Effects", "HDNet: A Look at Monsters"), deleted and extended scenes, extended interviews, a Comic Con NYC with Gareth Edwards feature, a "Factory Farmed" short film with intro from Gareth Edwards, and a digital copy of the film.
*Does not include 2-Disc Edition, which costs $20.99 at Amazon.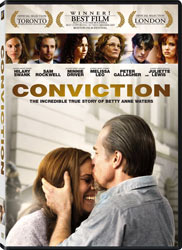 CONVICTION
Sam Rockwell and Hilary Swank are great. According to critics, this movie is less so. Nonetheless, their performances have been praised as the saving grace of the film, which tells the "inspirational true story"—boy am I getting tired of hearing that—of an unemployed single mother who spent 18 years trying to exonerate her wrongfully convicted brother. Here's the trailer.
Available on Blu-ray? Yes.
Notable Extras: DVD & Blu-ray – A Conversation with Tony Goldwyn and Betty Anne Waters.
Other noteworthy DVD (and Blu-ray) releases this week...
The Tillman Story [DVD / Blu-ray] – Welcome to the Rileys [DVD / Blu-ray] – Hatchet 2 [DVD / Blu-ray] – A Woman, a Gun and a Noodle Shop [DVD / Blu-ray] – Night Catches Us [DVD / Blu-ray]
Noteworthy Blu-ray-specific releases this week...
The Double Life of Veronique (Criterion Collection) – Alice In Wonderland (60th Anniversary Edition) – All About Eve – An Affair to Remember – Boys Don't Cry – Pleasantville

NOTES: Some deals may vary by store. Some deals may be in-store only. All deals are for DVDs unless otherwise noted.

$10 – Blu-ray sale: Bram Stoker's Dracula, Hancock
$12.99 – Blu-ray sale: Fight Club, X-Men Origins: Wolverine

$19.99 – Dexter (Season 4), The Tudors (Season 4)

$8.99 – Blu-ray sale: Highlander, Highlander 2, Requiem for a Dream, Total Recall, Wall Street, Wallace & Gromit: Complete Collection
$9.99 – Blu-ray sale: 2012, Ghostbusters, The Imaginarium of Doctor Parnassus, Legion, The Natural, The Runaways
$14.99 – Blu-ray sale: American Beauty, Forrest Gump, The Godfather Part II, Jonah Hex, Justice League: Crisis on Two Earths, National Treasure 2: The Book of Secrets, Stardust, and more...