'Toy Story 3' Screenwriter Michael Arndt To Pen 'Snow And The Seven'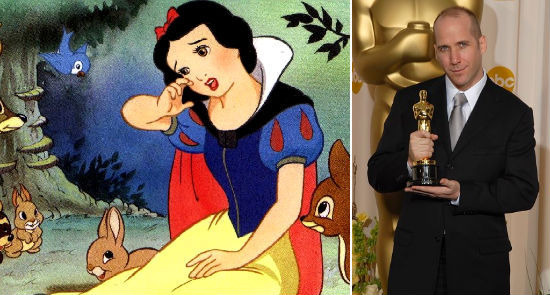 Mirror, mirror on the wall, who'll be the first Snow White to the ball? Three separate studios are currently vying to get their competing Snow White movies to the big screen: Universal's Snow White and the Huntsman, Relativity's The Brothers Grimm: Snow White and Disney's Snow and the Seven. And while we've heard plenty about the first two, little has been revealed about the Disney project except that it'll see Snow White in China and the Seven Dwarves as Shaolin Monks.
Now, fresh off an Oscar nomination for Toy Story 3, screenwriter Michael Arndt, who already won as Oscar for writing Little Miss Sunshine, is in negotiations to rewrite the screenplay for Snow and the Seven and Oscar-winning production designer John Myhre has also come aboard to begin working on a look for the film.
Read more about Snow and the Seven and recap all the Snow White projects after the jump.
The Hollywood Reporter exclusively broke the news about Snow and the Seven and also provided a little more info on the plot than we previously knew.
The unique project, which Disney has been developing since 2002, centers on a 19th century Englishwoman who returns to her Hong Kong home for her father's funeral, only to discover that her stepmother is plotting against her. She escapes to mainland China, finding solace among a rogue band of seven international warriors.
Francis Lawrence has long been attached to direct and Arndt will be the fifth person to take a crack at the original script, which was written by Scott Elder and Josh Harmon. Natalie Portman has been mentioned as Snow White, but as she's pregnant, there's no word on when she'll be fit to take on a role like this.
Still, it seems like none of these Snow White projects are coming together easily.
Let's recap. There are currently three Snow White films in development in Hollywood. We talked about Disney's Snow and the Seven above. Then there's Snow White and the Huntsman which is being developed by Universal. Directed by Rupert Sanders, rumors of Charlize Theron and Viggo Mortensen among others have been floated to star in the story of a huntsman tasked to kill Snow White, who instead joins her to fight against the Queen. Johnny Depp, Michael Fassbender and Tom Hardy have all been considered too.
Then there's The Brothers Grimm: Snow White, being developed by Relativity, and directed by Tarsem Singh. We haven't heard much about this project, except they'd like Julia Roberts to play the Evil Queen. Of course they would. We also know that Brett Ratner, who is part of Relativity, called the film "not your grandfather's Snow White."
Of the three studios, personally, I trust Disney above the rest. They've got an Oscar-winning screenwriter, Oscar-winning production designer and they are responsible for giving us the iconic version of Snow White. Plus Francis Lawrence has actually made box office hits, unlike Rupert Sanders or Tarsem Singh.
Which project has intrigued you the most?