Val Kilmer Reuniting With 'Real Genius' Co-Star Jon Gries For 'Deep In The Heart'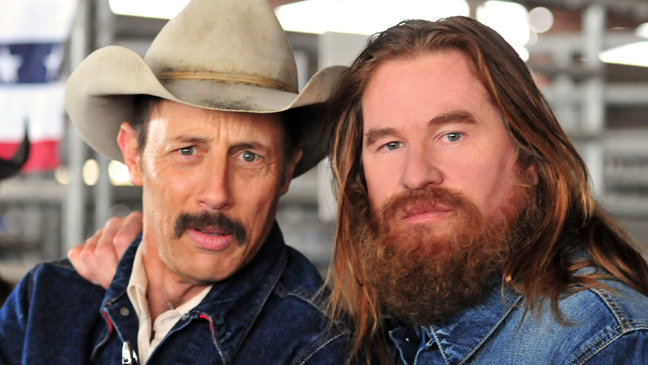 Weight gain and squandered A-list cred be damned, I've never liked Val Kilmer more than I have over the past ten or so years, and it's images like the one above that demonstrate why. After terrific turns in Kiss Kiss Bang Bang, The Salton Sea, Spartan and — yes, I'm serious — MacGruber, the ex-Hollywood hunk is now returning to his '80s roots by teaming up with Real Genius pal Jon Gries (best known as Uncle Rico in Napoleon Dynamite). The role? An imaginary 'Christ-like figure' who guides an alcoholic (played by Gries) to recovery. Learn more after the break.
According to The Hollywood Reporter, the film — titled Deep in the Heart — is based on the true story of Richard Wallrath, an entrepreneur who helped put hundreds of kids through college, and is the biggest all-time individual donor to two separate youth organizations in Texas (4-H and Future Farmers of America). But the film will take place earlier, before his days as a celebrated philanthropist.
Wallrath's journey is best summed up by co-producer Scott Duthie, who explains that he was "an alcoholic who hit rock bottom and lost everything, then reinvented himself, re-established his relationships with his family and built a multimillion-dollar business".
Kilmer, meanwhile, will star opposite Gries, playing a character known simply as "The Bearded Man". Duthie described him as a "Christ-like figure" who resides in Wallrath's mind, helping him on his path to recovery.
Young Guns director Christopher Cain will helm the film, which for the time being is without a release date or distributor.
So until there's more news on that front, why not take a trip down memory lane and check out the Real Genius clip below.