Kodi Smit-McPhee Joins Ari Folman's 'The Congress;' Danny Huston, Harvey Keitel And Paul Giamatti Attached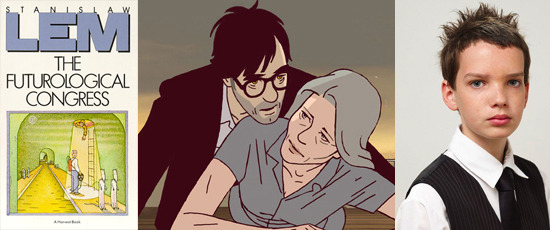 One of the more promising projects for the next couple years (don't expect this until 2012 at least) is The Congress, in which Waltz With Bashir director Ari Folman liberally adapts a story ('The Futurological Congress') by revered speculative fiction author Stanislaw Lem. The film is planned as a mix of live-action and animation, and we've already seen a taste of what the animation will look like.
Robin Wright stars as a struggling actress whose image has been bought and co-opted; she's essentially outmoded and unnecessary. As the film moves forward, animation takes the place of live action and Robin Wright's character is seen in what appears to be a dystopian future of sorts, where manufactured pharmaceuticals play a big role in life. Details are thin right now and, honestly, that's OK. It's good to be tantalized by a film like this, and with Ari Folman directing I'm happy to be along for the ride. But there are new details: Kodi Smit-McPhee (The Road, Let Me In) has been cast, and it appears that Danny Huston, Paul Giamatti and Harvey Keitel have parts, too.
The young actor just told WeGotThisCovered,
I'm also doing a film called The Congress which is just in the rehearsal process and I think next week we'll be shooting. I don't really know how to explain it, I think it's sci-fi and futuristic.
Even better, the site reports that Danny Huston, Harvey Keitel and Paul Giamatti are attached. Indeed, what appears to the the film's official Facebook page includes those names, as well as this synopsis:
An aging, out of work actress struggles to make ends meet and provide care for her disabled son. Times are tough until she is offered one last job. A major studio will scan her body – they will own her image and likeness and use it anyway they want. It's a huge paycheck, but there's a catch: she'll never be able to act again. The ramifications of her decision have far-reaching effects in the future that she could never imagine.
We don't know the roles for any of the four (Kodi Smit-McPhee is most likely the son of Robin Wright's character) but I'm happy to know the cast is growing.