Will Joaquin Phoenix Take A Role In 'Abraham Lincoln: Vampire Hunter'?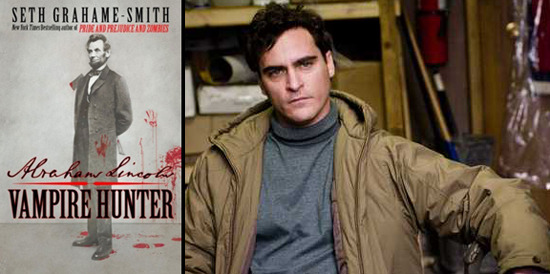 Fox is moving full steam ahead on the adaptation of Seth Grahame-Smith's novel Abraham Lincoln: Vampire Hunter. The author scripted, and Timur Bekmambetov will direct and produce, with Tim Burton also producing. Last week Benjamin Walker, once tapped to play Beast in X-Men: First Class before electing to do Bloody Bloody Andrew Jackson on Broadway, was hired to be Abraham Lincoln.
That leaves a couple of big roles, notably the fictional Henry Sturges, a vampire who saves Lincoln at 16 (John Ford wouldn't recognize this Young Mr. Lincoln) and then becomes the future president's vampire-killing mentor. A non-vampiric Whistler, if you will. But since Kris Kristofferson is probably not interested and/or too old, the role is reportedly open to Joaquin Phoenix, if he wants it.
Deadline says the offer is out to the actor, who hasn't taken a regular gig since his not-so-successful 'documentary' with Casey Affleck, I'm Still Here. The site says he is 'cagey' and could decide to skip the movie, but it seems that someone is a fan and wants him on board. And with Benjamin Walker, he'd be half of a potent pair.
That leaves quote a few other roles to cast: probably a young version of Lincoln; his father; Ann Rutledge; Mary Todd; William Seward; John Wilkes Booth and possibly Egar Allan Poe, who has a part in the book. (Which, as luck would have it, parallels in a way the story being told in the Poe film The Raven, with John Cusack as the author.)
We don't know how the script has been drafted — does it reduce Lincoln's younger years to brief flashbacks? — but it is reasonable to expect based on the book and this possible casting that Henry Sturges would be a strong supporting character. Benjamin Walker was a good casting choice, and while the material doesn't do anything for me at all, I'm curious to see how the rest of the cast shakes out.