Henry Cavill Was Cast As 'Superman' Once Before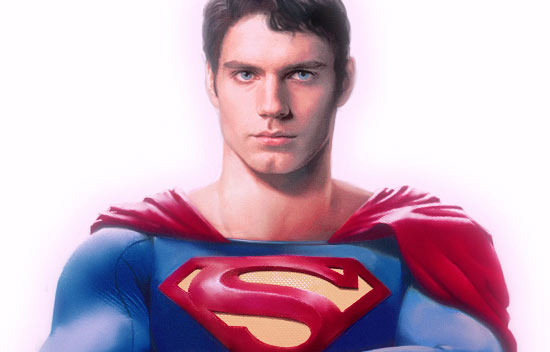 By now you've probably read the news that relative unknown Brit actor Henry Cavill (Stardust, The Tudors, Tarsem's upcoming Immortals) has been cast as the titular alien superhero in Zack Snyder's forthcoming Superman reboot, beating out contenders such as Watchmen's Matthew Goode and The Social Network's Armie Hammer. What you may not know, however, is that this actually isn't his first time being selected to don the red cape and booties.
Prior to Bryan Singer taking the helm on what would eventually become Superman Returns, Cavill was set to lead the JJ Abrams-scripted franchise revamp in '03/'04 for Charlie's Angels and Terminator Salvation director McG. But when McG abandoned the project, Cavill vanished along with him. Learn more after the break.
Cavill has spoken openly about being cast in prior incarnations of Superman on several occasions, but for obvious reasons, it took until now for the discussions to become pertinent.
One such admission came in an interview with MTV:
I was attached to the McG 'Superman' movie. Then Bryan Singer came on and took the helm and he made his movie. [The McG and Singer versions] were two different movies. So it wasn't so much of a sting because it was like, 'Oh, I got [the role],' and then the movie just didn't happen.
And an interview with Comic Book Movie has Cavill further confirming his involvement in the film, and even discussing (for those who may not be familiar) why McG left the project:
Yes, there was talk about that, a while ago now. Must have been four or five years ago, maybe more. When McG was working on a script with them. I don't know how close I came. I understand it was very, very close and sadly the movie was cancelled because McG didn't want to fly. He certainly had a big fear of flying at the time; I think he's since overcome it. He wanted to shoot in New York, they wanted to shoot in Australia for obvious reasons. He said, 'I can't do it,' and they moved on. These things happen. It's the nature of the business.
Cavill was so far along in the casting process, he even participated in costume tests. As of now, these images aren't available online, but seeing as how Steve Johnson was responsible for designing the costume, you can use your imagination while looking through the concept art he so graciously unveiled to get an idea of how Cavill might've looked in the McG-directed Superman that never came to be.
It's fascinating to think about the process this franchise has gone through. Before it would've seemed that, following the long and sordid history that's plagued recent attempts to bring Superman to the big screen, the casting of Brandon Routh several years back would've shattered Cavill's only hope of ever taking on the role. But in today's era of cinema, it's never too soon to reboot a series — even if that series was already the reboot of a prior series — and as such, Cavill has become possibly the sole holdover of a project thought to be well and truly dead.
How do you guys feel about this? Are you excited to see what Henry Cavill can finally do now that he's finally been given the chance, or do you think we would be better off had nothing resurfaced from McG's take on Supes?
[Image Source: Ralph Damiani Sketchbook]