'Sound Of My Voice' - Why Brit Marling Will Be A Name To Remember [Sundance Review]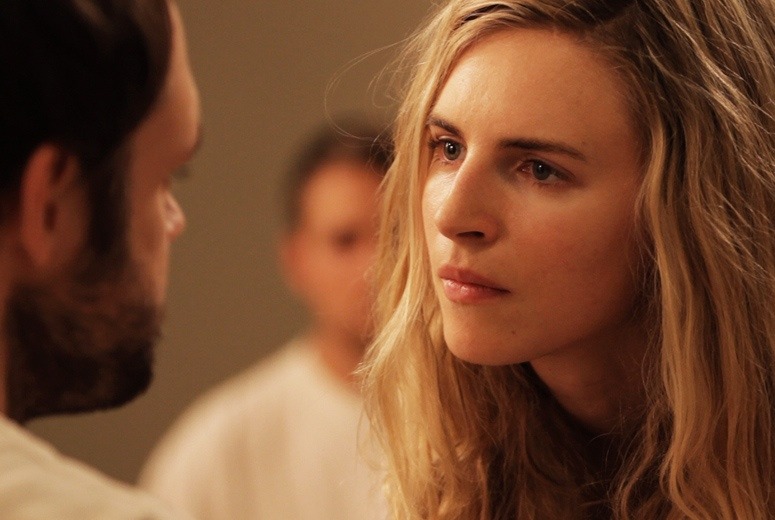 At the beginning of the week, everyone was talking about Elizabeth Olsen, the OTHER Olsen sister, who had been unofficially crowned the "it" girl of the 2011 Sundance Film Festival. She's a new young talent  that had her public coming out, appearing in two films at this year's fest, both of which sold early in the week — Martha Marcy May Marlene and Silent House.
And Elizabeth is a talent we should watch out for in years to come, but the star power extruding from her family's name seems to be blinding people to the real story, the real "it" girl of this year's festival — Brit Marling. If you ask me, she is a new force in the independent film scene. Not only did she star in two of the more highly acclaimed films of this year's Sundance, but she also co-wrote and produced both features. Both movies have a sci-fi component, but for the most part deal in the world and reality of today.
I didn't love Another Earth as much as other folks, but it would be impossible not to make note of the original ideas which play in the backdrop of that story, and the natural performance that Marling delivers. For me this isn't just about Marling, these two films are THE STORY of this year's Sundance Film Festival. It turns out, that while Marling spent mornings writing Another Earth with director Mike Cahill, she would travel downstairs (same house) and help write Sound of My Voice with Cahill'sroommate Zal Batmangli.
The three met while attending Georgetown University — Zal and Mike met in psychology class, Brit studied economics, Zal studied anthropology. They entered an 48-hour filmmaking competition, and with that they instantly became filmmakers. They completed three shorts together, all of which reportedly won the school's highest prize for filmmaking. Batmanglij later attended the American Film Institute.
Cahill and Marling co-directed a 2004 film Boxers and Ballerinas, a documentary exploring the US-Cuba conflict seen through "the eyes of four youths–a boxer and a ballerina in Havana and Santiago de Cuba and a boxer and a ballerina exiled in Miami." Cahill edited the documentaries Leonard Cohen: I'm Your Man and Everyone Stares: The Police Inside Out, which Marling co-produced.
The stars aligned and both films got accepted into the 2011 Sundance Film Festival, Another Earth in the Dramatic competition and Sound of My Voice in the Next category (the micro budget section). Both movies are a bit more high concept than the rest of the Sundance films this year, although My Voice is one of at least four films at this year's fest which deals with "cults".
Sound of My Voice (which, yes, is a horrible film title) begins with a couple following a set of instructions which result in them being blindfolded in the backseat of a van being driven to an undisclosed location. Once in the basement, they must perform a secret handshake to gain access. It is here where they meet the other members of the group, and their leader Maggie, who claims to be a time traveler from the year 2054.
Maggie says "the Future is already written" and her members are "the chosen ones." Peter and Lorna are not believers — they are a couple who have infiltrated the group to expose cult. Peter hopes to sneak micro video cameras into the meetings and edit together a documentary. But as they go further down the rabbit hole, Peter and Lorna begin to have second thoughts about the whole thing. And is there even the slightest possibility that Maggie isn't a con artist? Could she actually be from the future?
While Martha Marcy May Marlene was a great character piece, it is slow and understated. Sound of My Voice is quite the opposite. It has many twists and turns, and in the end leaves you wanting more. You'll leave this film having discussions with your friends, theorizing about what happened and where the story could evolve.
Sound of My Voice is a planned first chapter of a long format story — a trilogy of films. I hope that the movie gets picked up so that we can find out what happens after the credits roll. The filmmakers have said that if they are unable to finish the story in feature films, they might explore the possibility of a web series or television series. Both will probably appeal to fans of the television series Lost.
Brit Marling plays the cultish leader with innocence, which makes you question what is real and what isn't. It is easy to see how her followers get sucked in and become full-blown believers. And in that sense, you might feel what it is like to become a believer.
The film is not as well shot as MMMM, hence, there is a reason why Sound of My Voice is playing in the NEXT category (Sundance's ultra low budget section). But for my money it is a much more interesting film. The story stays with you days after seeing it. It's definitely more accessible, filled with franchise and viral marketing possibilities. Which makes me wonder if Fox Searchlight bought the wrong cult film at Sundance...
/Film Rating: 8 out of 10