'Beats Rhymes & Life: The Travels Of A Tribe Called Quest' – Rags To Riches Hip Hop Documentary [Sundance Review]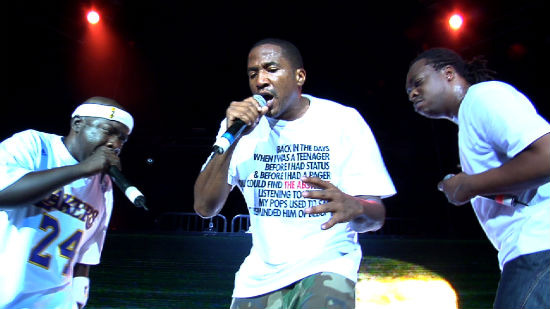 While Beats Rhymes & Life: The Travels of a Tribe Called Quest isn't the best documentary I saw at the 2011 Sundance Film Festival, it's far and away the most fun. Directed by actor Michael Rapaport, it tells the rise, fall and rise again, of one of the most influential hip hop groups of all time: A Tribe Called Quest. Infused with their music, behind the scenes footage and deeply personal and revealing interviews, Rapaport has crafted both a love letter to Tribe while also telling the simple story of what success does to friendship.
Formed in the late 1980s, A Tribe Called Quest is composed of Q-Tip (Kamaal Ibn John Fareed), rapper Phife Dawg (Malik Taylor), DJ/producer Ali Shaheed Muhammad and Jarobi White. Born and bred in New York, inspired by Run DMC and LL Cool J, the four friends eventually became known for music that's described as "party music with a conscious." They released three hit albums in the early '90s including their classic sophomore effort The Low End Theory but broke up in 1998.
Rapaport starts the film at a reunion show amiss a huge beef between Q-Tip and Phife, then goes through the group's history, interviewing each member by themselves, working his way back to that show. Along the way, he also talks to current artists and producers who basically credit Tribe for changing hip hop as we know it. And while the film definitely focuses some attention on Tribe's time at the top, their successes and influences, it's way more interested in how they got there and the fall. With 5-10 more minutes showing the group in their prime, the film would have held a little more weight than it does.
As it stands now, though, it's still incredibly entertaining and very insightful as it gets each of the group members to open up about relationships in the band, their health and more.
The only way someone wouldn't find something to enjoy in Beats Rhymes & Life: The Travels of a Tribe Called Quest is if you hate hip hop as a musical genre. Even people with an open mind who aren't fans will enjoy the interpersonal relationships, the great characters and the classic story of hard work. And if you happen to be a fan of Tribe or hip hop, like myself? Then Beats Rhymes & Life will keep your head bopping for 95 straight minutes.
/Film Rating: 8 out of 10
And, just because it's my favorite song of all time, here's we go yo, with the Scenario.