Self-Help Book 'Men Are From Mars, Women Are From Venus' To Be Adapted By 'Can't Hardly Wait' Writers/Directors Harry Elfont And Deborah Kaplan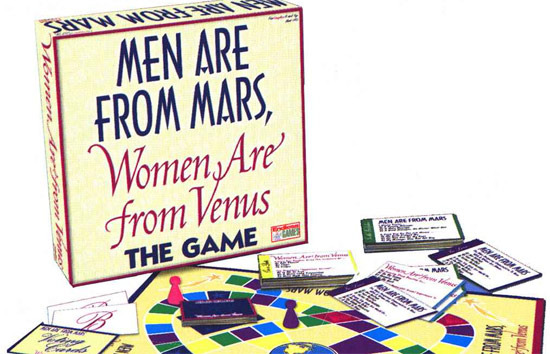 We've entered a new frontier, so desperate for preexisting properties on which to base films that any semblance of an actual narrative has become strictly optional. The latest up-and-coming trend: self-help books. After the box office success of He's Just Not That Into You, studios have been actively scrounging up other self-improvement books to make into movies, one of the more recent examples being How to Talk to Girls (which Date Night director Shawn Levy is in the process of developing).
Now there's Men Are From Mars, Women Are From Venus, based on the enormously relationship book by John Gray that, since its release in 1992, has sold over 50 million books and even spawned a board game and a short-lived talk show. Summit Entertainment has hired Harry Elfont and Deborah Kaplan, the writing-directing team behind Can't Hardly Wait and Josie and the Pussycats, to adapt and direct. Learn more after the break.
Deadline says that Summit plans to turn the book, which provides practical ways that men and women can communicate better by acknowledging the differences between them, into — surprise, surprise — a romantic comedy. In other words, expect that thoughtful practicality to be substituted for comedic misunderstandings and assorted sexual escapades.
Now, I'm not dismissing the possibility of something good being able to come from this. There's already been at least one instance of a quality flick being made from a self-help book, with Tina Fey using one (Queen Bees and Wannabes) as the basis for Mean Girls. And considering that this particular book is intended to highlight the mindsets and emotional needs of each sex, it's comforting to know that both male and female perspectives will receive equal treatment with the writing-directing team that Summit's brought on board. Then again, they're also the duo responsible for writing Leap Year and co-writing Made of Honor. So, maybe not.