Benjamin Walker Cast As 'Abraham Lincoln: Vampire Hunter'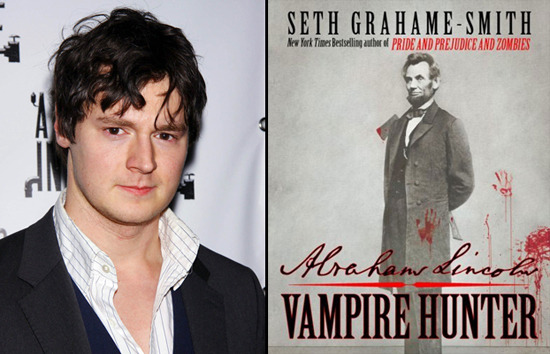 Guess there are no hard feelings between Fox and Benjamin Walker, who last year walked away from the role of Beast in Matthew Vaughn's X-Men: First Class. The studio has just signed the actor to be Abraham Lincoln in Timur Bekmambetov's upcoming Abraham Lincoln: Vampire Hunter.
Variety confirmed that the actor will show up as the sixteenth president — or the fantasy, vampire-killing version of him, at least — in the adaptation of Seth Grahame-Smith's novel. He took the role over four other actors (Adrien Brody, Josh Lucas, James D'Arcy and Oliver Jackson-Cohen) after all screen tested.
Mr Bekmambetov will direct the 3D film from a script by Seth Grahame-Smith. Now the latter just needs to get his other project, Pride and Prejudice and Zombies, properly set to go at LionsGate and he'll have a hell of a 2011.
(And Benjamin Walker has arguably proven his presidential mettle, as he starred in Bloody Bloody Andrew Jackson on- and off-Broadway. That's what he skipped out on First Class to do.)
Production kicks off in March for a June 22 2012 release.
Previously, Bekmambetov had this to say about the film:
It is not a comedy at all – it is a very entertaining, epic history lesson for millions and millions of teenagers. If you remember Night Watch, it is maybe in the vein of that kind of movie. We are keeping the traditional look of Lincoln – the big hat and the beard. He has to be historically correct, but with a few special weapons.
Here's Publisher's Weekly recap of the book:
Seth Grahame-Smith inserts a grandiose and gratuitous struggle with vampires into Abraham Lincoln's life. Lincoln learns at an early age that his mother was killed by a supernatural predator. This provokes his bloody but curiously undocumented lifelong vendetta against vampires and their slave-owning allies. The author's decision to reduce slavery to a mere contrivance of the vampires is unfortunate bordering on repellent, but at least it does distract the reader from the central question of why the president never saw fit to inform the public of the supernatural menace.