Kristen Stewart And Emily Browning Mentioned As Possible Choices For 'Snow White And The Hunstman'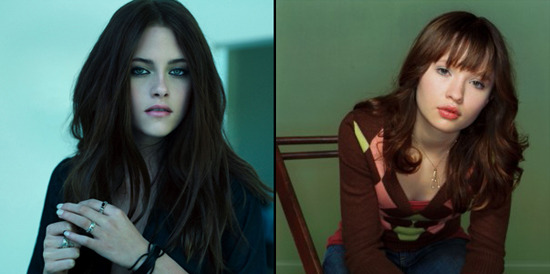 So last night we got what seems to be the first really reliable word on the casting of Universal's Snow White and the Huntsman: Viggo Mortensen is in talks to play the Huntsman. With Charlize Theron also in talks (to play the wicked queen) that leaves a couple major roles wide open. The pivotal one, obviously, is Snow White. The latest actresses mentioned in conjunction with the role are Kristen Stewart and Emily Browning (Sucker Punch, A Series of Unfortunate Events).
Deadline notes that the studio has been testing actresses and that a choice hasn't yet been made, but says there "are persistent rumors that Stewart looms large as a potential lead." That would be at odds with the previous report that Universal wants a Hailee Steinfeld type, i.e. a young, talented and relatively unknown actress.
And THR notes that Emily Browning is among those who have tested. Simply on the point of appearance she's a much better fit, and also may be quite a bit less known than Kristen Stewart despite having been around for some time.
Also keep in mind that Tom Hardy was in talks for the Hunstman role some time ago, so Viggo Mortensen isn't set in stone despite being in talks. And Ridley Scott's Prometheus seems to be dangling in front of Charlize Theron, who likely can't do both movies. So she might move that way, too. (That's what seems to have happened with Michael Fassbender, who was also linked to the role of the Hunstman before Mr. Mortensen.)