'Homework' A Comfortable Indie Coming Of Age Movie Starring Emma Roberts And Freddie Highmore [Sundance Review]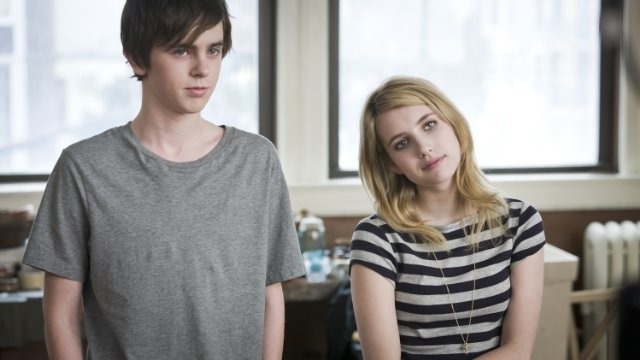 If you've been reading this site for any regular period of time, you know that I'm a sucker for coming of age films — especially the brand of indie romdrams that usually play at the Sundance Film Festival. Gavin Wiesen's feature directorial debut Homework premiered this week at the festival, and quickly sold to Fox Searchlight (my indie mini-major of choice).
Homework tells the story of George (played by former child star Freddie Highmore), a lonely underachieving teen who is about to fail high school in the end of his senior year. He is befriended by his crush, a girl named Sally, but he is unable to express his feelings for her. His parents are fighting, and he must complete a year's worth of homework in a two week period or face expulsion.
And did I mention that the story is set in New York City and indie it girl Emma Roberts plays the romantic interest? Sounds like your typical Sundance coming of age romantic drama... and it is.
You've seen this movie at least a couple times before, and as a result some of the plot points are predictable . While the movie doesn't try to reinvent the wheel (not even a little bit), Homework is a comfortable break from the depressing dramas, bloody horror thrillers and entertaining documentaries that have comprised my Sundance experience this year.
The film falls into as many cliches as it tries to avoid, especially in the final act. But there is still much to like and enjoy. Ben Kutchins films New York City in a beautifully romantic light, the catchy soundtrack is front and center, and the performances are natural across the board.
Searchlight made a good purchase as the story is highly accessible and could be easily marketed to the teen/college audience. Plus, yes, it has Emma Roberts, who is quickly becoming a young star in her own right.
/Film Rating: 7.5 out of 10