'The Guard' – 'Hot Fuzz' Plus 'In Bruges' Equals Funnier Than Both [Sundance Review]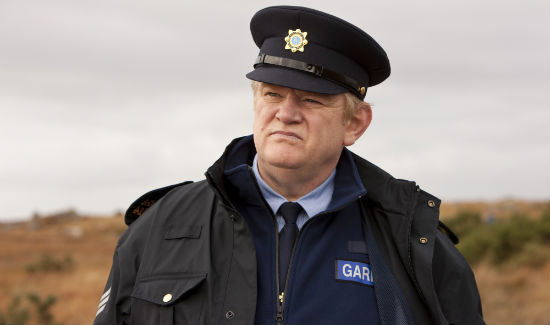 The Guard, which was picked up at Sundance by Sony Pictures Classics, is one of those movies you're going to be quoting and turning your friends on to. Though it seems pretty surface based on a general description, once you see it, you realize it's a truly special movie complete with humor, action, heart and one of the most memorable characters in recent years. That character, Sergeant Gerry Boyle played by Brendan Gleeson, is sort of Bad Lieutenant Light. He's got plenty of bad habits – drinks on the job, says horrible things – but is actually a decent guy and great cop. Put that character in the middle of a simple murder mystery, co-starring Don Cheadle and Mark Strong, written and directed by John Michael McDonagh, and you've got one of the best movies at this year's Sundance Film Festival.
Once Gleeson's character is established, with his thick Gaelic accent, he and a new Guard – which basically another name for police officers – discover a very mysterious murder. That murder ends up tying into a massive drug case FBI Agent Wendell Everett (Cheadle) has come to Ireland to investigate. The two become unlikely friends and help each other track down the bad guys, including the leader played by the always awesome Mark Strong.
The actual story of The Guard isn't what makes it special. What makes it special are its award-worthy screenplay, which is filled with hilarious asides and biting banter, the performances – Gleeson in particular – and the perfect good cop, bad cop chemistry between Cheadle and Gleeson. When apart, each is a very unique and interesting person, but when they're together, they bring out the best in each other – both in the world of the movie and as actors. There's also a touching subplot about Boyle and his mother, played by Fionnula Flanagan, who you know as Eloise Hawking from Lost. All of these complement themselves perfectly in this tight, 90-minute film.
Reminiscent of the early works of Guy Ritchie, but with a more grounded filmmaking style, The Guard easily places itself in the same breath as other crime thrillers from the region – Snatch, In Bruges, Hot Fuzz, etc. It's a film that will be one of your favorites of the year and also remain in your heart for years to come.
/Film Rating – 9 out of 10.