Will Smith's 'Annie' Remake Development Officially Announced; Jay-Z Definitely On Board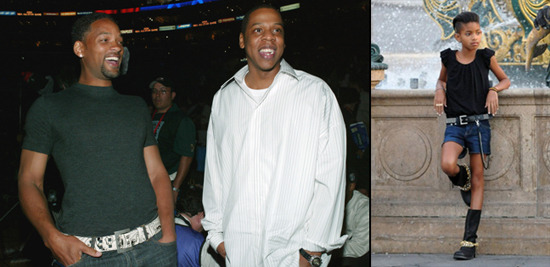 Late last week we heard that Will Smith might be developing a remake of Annie at Columbia/Sony, the idea being to create a star vehicle for his daughter Willow Smith. At the time there was a rumor that Jay-Z would be involved with the music for the film, just as he was in the production of Willow Smith's hit single 'Whip My Hair.' Now Mr. Smith's company has officially announced the remake and partnership with Jay-Z. All the details are after the break.
This is the first development from a partnership between Will Smith's Overbrook Entertainment and Jay-Z, with the intent "to develop and produce major motion pictures." Plural. All involved have already worked on the hit Broadway musical Fela!, and there's the previously mentioned business arrangement between Willow Smith and Jay-Z's label. So is this the second step in creating a Smith Family entertainment juggernaut, where the first step was the remake of The Karate Kid? Looks like it.
Here are the important bits from the press release, where Columbia Pictures president Doug Belgrad says,
The time is right to bring back ANNIE to the big screen. Of course, we're true believers in Willow's talent and believe she will be perfect in this role. Combining Willow with the Overbrook team that reimagined Karate Kid and the spectacular JAY-Z makes this a dream project.  A decade ago, JAY-Z proved that the power of the underlying Broadway property remains, by showing how these songs could be reinterpreted for a new generation with Hard-Knock Life. We couldn't be more thrilled to be working with our friends at Overbrook as they launch this new venture.
We don't know more — this seems like it is still pretty early, but I'd be surprised if it stalled out before going into production. We still don't know much about the degree to which the material from the Broadway musical (music by Charles Strouse and lyrics by Martin Charnin and a book by Thomas Meehan) which led to the John Huston movie will be changed for this version. Expect at least some revamping and/or modernization.