First Concept Art For 'Mr. Peabody And Sherman'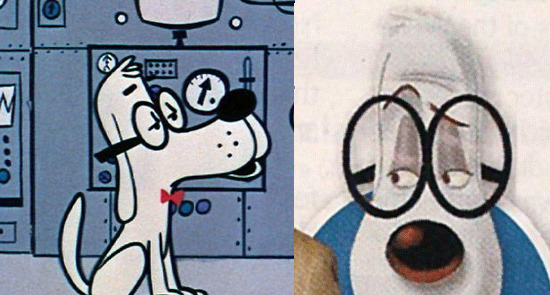 Briefly: When we had the first announcement of the Rocky and Bullwinkle spin-off film Mr. Peabody and Sherman, which will feature Robert Downey, Jr. voicing the time-traveling dog Mr. Peabody, we mentioned that concept art of the canine would soon be coming down the line. Here it is and...yeah, that's Mr. Peabody, all right. Same basic look, albeit with more detailed, expressive eyes. I suppose there's a bit of Robert Downey, Jr. in there, but not too much.Jeffrey Ventimilia and Joshua Sternin (The Simpsons, Yogi Bear) wrote the script, and as you'd expect it will feature Mr. Peabody and Sherman using the WABAC machine to travel through time, the better to introduce Mr. Peabody's 'pet boy' Sherman to history. What historical figures will appear? We don't know, but expect those details in the coming weeks. A telling of the starring characters' origin story is reportedly part of the script. The film will be fully CGI, and 3D.
See a larger version of the concept image after the break.