This Week In DVD & Blu-Ray: Red, Saw: The Final Chapter, Enter The Void, Nowhere Boy, Dogtooth, And More
We may receive a commission on purchases made from links.
This Week in DVD & Blu-ray is a column that compiles all the latest info regarding new DVD and Blu-ray releases, sales, and exclusive deals from stores including Target, Best Buy and Fry's.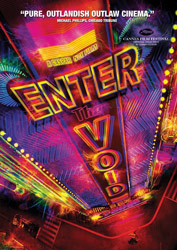 ENTER THE VOID
Enter the Void is unlike anything I have ever seen or experienced. It's a one-of-a-kind work of stunning ambition and passion—a psychedelic trip through one man's drug-fueled perception of his life, his death, his afterlife, and his rebirth. This is not a film to be taken lightly. From its dizzying, techno-charged opening credits onward, it assaults the senses, immersing you (whether you like it or not) into a soulless abyss of life-altering despair, vacuous sex, vibrant neon cityscapes, and obsessive existential desires. For many, it will be a confounding, interminable bore, so indulgent in its own sensual kineticism that it fails to conjure up a satisfying, coherent narrative. Such a reaction is understandable, but with the current antiquated need for the same strict storytelling structure in every film, Gaspar Noé's soaring, perspective-bending journey through an ethereal Tokyo dreamscape marks exactly the sort of unrestrained madness that today's jaded moviegoers should be celebrating. It isn't just the greatest visual achievement since 2001: A Space Odyssey—it's one of the greatest achievements in cinema, period.
Available on Blu-ray? Yes.
Notable Extras: DVD & Blu-ray – Deleted scenes, VFX, Vortex, DMT, Posters, and Teasers/Trailers/US Trailer/Unused Trailers.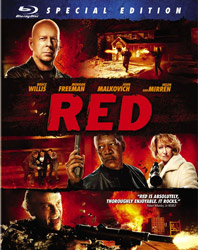 RED
(Blu-ray available as Movie-Only Edition and Special Edition Blu-ray)
Not much needs to be said about Red. It's derivative and trifling and all of its best action beats were already spoiled in the trailer, but those are criticisms better reserved for a movie that has aspirations beyond merely grouping together a fun group of veteran actors and having them engage in some lighthearted action-comedy espionage. For what it attempts to achieve—which isn't much—Red is perfectly serviceable entertainment. And as nice as it would've been to get a little more out of the film's impressive ensemble—Malkovich is the only one amongst the old-timers whose performance consists of more than just showing up and being likable—the cast's collective presence remains reason enough to see the film.
Available on Blu-ray? Yes.
Notable Extras: DVD – An audio commentary with Retired CIA Field Officer Robert Baer, and deleted and extended scenes. Special Edition Blu-ray – Includes everything on the DVD, as well as an Access Red: Immersive 6-part interactive feature including pop up trivia, interviews and more, and animated documentary shorts on controversial CIA operations.
*Does not include Special Edition, which costs $19.99 at Best Buy, $22.99 at Target, and $23.99 at Amazon.
EXCLUSIVE DEAL:
What? Free movie ticket to see Drive Angry when you buy any version of Red.
Where? Best Buy.
NOWHERE BOY
Impressively acted and adeptly made though it may be, there is nothing about the story on display in Nowhere Boy that would've been deemed worthy of the cinematic treatment were the kid in question not named John Lennon. That's great for people whose primary interest is getting a dramatized taste of the formative years of Lennon's childhood; less so for people like me, who prefer stories that can operate free from historical context over those that conveniently lend themselves a greater significance simply by being about prominent historical figures. Nowhere Boy makes an admirable effort to earn a place in the latter camp—it provides a more restrained, focused approach to the generally long-winded biopic format, and takes some creative liberties in its attempts to craft a more narratively satisfying tale—but it can't quite overcome the limitations of Lennon's somewhat unremarkable roots.
Available on Blu-ray? Yes.
Notable Extras: DVD & Blu-ray – Deleted scenes, and 2 featurettes ("The Making of Nowhere Boy", "Nowhere Boy: The Untold Story of John Lennon and the Creation of The Beatles").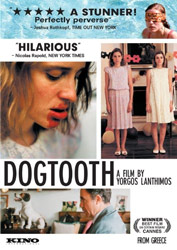 DOGTOOTH
The nature versus nurture debate gets a devastating treatment in Dogtooth, a perplexing and perversely fascinating study of the human condition that challenges you to look at the world from the eyes of people who have been all but completely removed from it. The film follows three young adults, isolated within the confines of a country estate by parents that wish them to never leave, lest they become corrupted by the influences of the outside world. Though there is a basic story arc that unfolds, the film is primarily a sociological and anthropological examination, observing the ways in which language, sex, violence, and other basic behavioral responses become affected when there's an absurd inability to properly contextualize those experiences. The 'why' behind these circumstances is of little concern to the picture; co-writer/director Giorgos Lanthimos seems only interested in the 'what' and the 'how', presenting the frequently troubling and graphic material with a clinical eye and an eerily comedic edge. It also has a searing satirical bent, highlighting the disturbing nature of middle-class complacency in the face of systematic indoctrination. I don't imagine this is a movie that I'll find myself returning to over and over again, but it's certainly one that I'll be eager to recommend and discuss for years to come.
Available on Blu-ray? No.
Notable Extras: An interview with director Yorgos Lanthimos, and deleted scenes.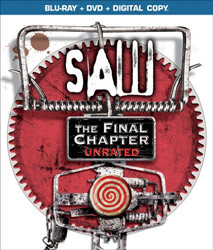 SAW: THE FINAL CHAPTER
I'm a little dismayed by Saw 3D, and no, it's not because—according to critics—it's the worst sequel in a franchise consisting almost entirely of dismal sequels. As someone who has no investment in the hilariously convoluted Saw series, my only regret is that a perfectly good opportunity for a groan-worthy title was so carelessly wasted. Way to go, Lionsgate. You deprived the world of being able to mock 'Saw3d'. And come to think of it, had you not been rushing out a new Saw film every damn Halloween, you could've saved the 3D gimmick for the fourth film and granted us one better: 'S4w3d'. Selfish, Lionsgate. Very selfish.
Available on Blu-ray? Yes.
Notable Extras: DVD & Blu-ray – 2 audio commentaries, 4 music videos, deleted and extended scenes, a 52 Ways to Die featurette, a digital copy, and more.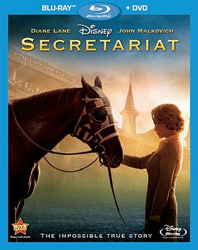 SECRETARIAT
"You're about to see something you ain't never seen before!"
This is a line from the trailer for Secretariat, which is a pretty bold promise for a Disney flick that clearly has no interest in deviating from the sports movie formula found in every other glossy, feel good, commercial "inspirational true story" in existence. Without even having seen the film, I feel as though I can state with some confidence that Hollywood moviemaking doesn't get much more generic than this. I welcome those that have seen it to argue otherwise in the comments.
Available on Blu-ray? Yes.
Notable Extras: DVD – A Heart Of A Champion featurette, Deleted Scenes, and an AJ Michalka "It's Who You Are" music video. Blu-ray – Includes everything on the DVD, as well as a director commentary, 4 additional deleted scenes, a Secretariat Multi-Angle Simulation, and 2 featurettes ("Choreographing The Races", "A Director's Inspiration: A Conversation With The Real Penny Chenery").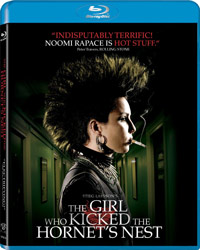 THE GIRL WHO KICKED THE HORNET'S NEST
Ah, the gradual decline of the Millennium trilogy. From an 86% Rotten Tomatoes rating for The Girl with the Dragon Tattoo, to a 69% rating for The Girl Who Played with Fire, to finally a 52% rating for The Girl Who Kicked the Hornet's Nest. At this point, I'm thinking audiences may be better off waiting for Fincher's take on the material.
Available on Blu-ray? Yes.
Notable Extras: DVD & Blu-ray – None.
Other noteworthy DVD (and Blu-ray) releases this week...
Client 9: Rise and Fall of Eliot Spitzer [DVD / Blu-ray] – Red Hill [DVD / Blu-ray] – Broadcast News (Criterion Collection) [DVD / Blu-ray] – Glee (Season 2, Vol. 1)
Noteworthy Blu-ray-specific releases this week...
Eternal Sunshine of the Spotless Mind – The Color Purple – A Beautiful Mind

NOTES: Some deals may vary by store. Some deals may be in-store only. All deals are for DVDs unless otherwise noted.

$10 – Blu-ray sale: This Is It, Australia, The Crazies, Law Abiding Citizen, Superbad

$12.49 – Arrested Development (Season 1)
$16.99 – Entourage (Season 1)
$19.99 – Battlestar Galactica (Season 2)