Full Trailer For HBO's Cormac McCarthy Adaptation 'The Sunset Limited'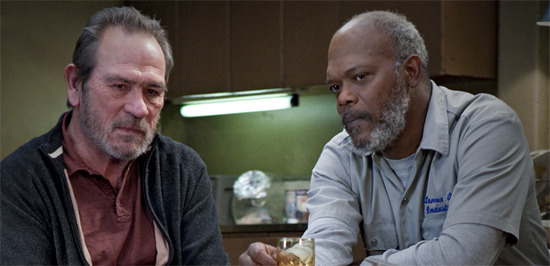 One of the lesser-known works from No Country For Old Men author Cormac McCarthy is the play The Sunset Limited. It features two men, called simply Black, a Christian ex-con and White, and atheist professor, talking in Black's home after he saves White from a would-be suicide dive into the path of a train. We've seen two teasers for the film, and now have the full trailer after the break.
Tommy Lee Jones directs and plays White, with Samuel L. Jackson as Black. I love the idea of these two actors going toe to toe in one room for the duration of a feature, but can't tell from the trailer if this is a dry, didactic exercise or a real living, breathing story. There are moments in the footage where it looks as if it might really be alive, and then others where it looks like an on the nose trial. Really hoping for a good result here — the last directorial effort from Mr. Jones, The Three Burials of Melquiades Estrada, was understated and wonderful. We'll know how this fares when the film premieres on February 12.
Here's more information about the original play, from Cormac McCarthy's website:
The historical Sunset Limited was a transcontinental train that crossed the American south from Atlantic to Pacific. Metaphorically, to ride the sunset limited is to take the mythic train west, to go to the western wall, to sail over the edge of the world. The literal train in McCarthy's The Sunset Limitedis a New York subway, but the destination of the suicidal professor White is the solitude of death, an escape from the hell of other people, from the human history of war and genocide, and from his own intractable alienation.
The Sunset Limited takes place entirely in the subway tenement apartment of the ex-con, Black, who has forcibly prevented the college professor, White, from casting himself in the path of an on-rushing subway train. Over the course of several hours, while the subway trains rumble ominously, Black keeps White a virtual prisoner in his apartment while he probes the roots of White's suicidal depression and tries to convince him that life is worth living, that the antidote to despair is communion with God and with one's brothers and sisters, that the Divine principle shimmers in all. Black is no stranger to the violence of human nature. He has been convicted of murder, and he was nearly murdered himself in a knife fight in prison. But lying near death he heard God speak to him in a vision, and he has lived the rest of his life in service to the thieves and junkies of his nether world, hoping to hear the voice of God again.