Paddy Considine Scores At Sundance With 'Tyrannosaur,' Will Next Direct 'The Leaning'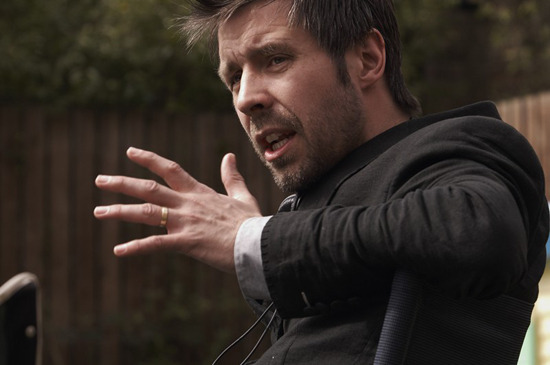 Paddy Considine is one of the best character actors out there. You've seen him in Hot Fuzz, Cinderella Man, Red Riding 1980, The Bourne Ultimatum, the films of Shane Meadows and more. Now he's made the jump to directing features and his debut film, Tyrannosaur, is getting great notes at Sundance. And while promoting that effort, he's dropped hints about his next film. That will be a ghost story called The Leaning. More details after the break.
First up, Tyrannosaur, which features the great Peter Mullan as a violent, self-destructive alcoholic who strikes up a friendship with Hannah (Olivia Colman, Peep Show, also in Hot Fuzz), a Christian charity-shop worker. The film is essentially an expansion of Mr. Considine's BAFTA-winning short Dog Altogether. He says "mainly it's about my interpretation of life, and trying to function as a human."
Variety called it "a strong writing-helming feature debut," and Jeff Wells delivered an impressive pullquote: The most original adult love story I've seen in ages. Easily the biggest shock of the Sundance Film Festival so far. I didn't see this one coming." The talent on both sides of the camera had me ready to see the film, but every note I read increases my interest.
As for Mr. Considine's next film, he told IndieWire "I am writing a script called The Leaning. It's a ghost story. It's about secrets and legacies and how the dead come to terms with their sins."
Total Film says "it tells the story of  young woman haunted by a childhood trauma who in adult life struggles to form meaningful relationships," and quotes the director saying "Every time she gets close to somebody she feels this presence." The film will shoot in England, possibly with Olivia Colman again in the cast, and The Exorcist is a reference point.