Casting Bits: Jason Clarke In 'Wettest County In The World;' Ken Howard In 'J. Edgar;' Thomas McDonnell In 'The Spectacular Now'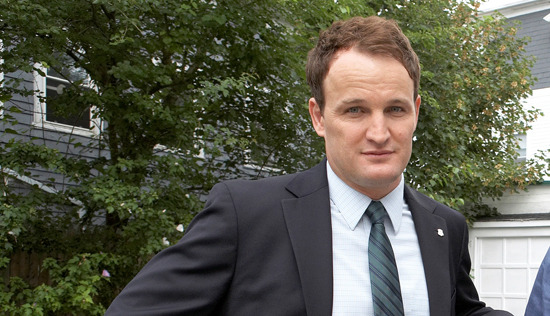 John Hillcoat's revived project The Wettest County in the World has Shia LaBeouf and Tom Hardy set to appear when the film shoots later this year, and there is word that Mia Wasikowska might grab the main female role if her schedule permits. While we wait for that to be sorted out, here's word that Jason Clarke (The Fields, Public Enemies, Brotherhood) is in the picture as well. No word on his role, but with Mr. Hillcoat again directing from a script by Nick Cave (adapted from Matt Bondurant's book of the same name) it might not even matter. [Variety]
After the break, the president of SAG gets a role in Clint Eastwood's latest, and a Prom actor goes to The Spectacular Now.
Clint Eastwood's film J. Edgar has Leonardo DiCaprio set to play the title role, Armie Hammer as his right-hand man Clyde Tolson, and Ed Westwick, Damon Herriman, Judi Dench and Josh Lucas in other roles.
Now the film boasts Ken Howard as Harlan F. Stone, who was U.S. Attorney General, but was later appointed to the Supreme Court. He was an Associate Justice from 1925-1941, and elevated to Chief Justice in June of '41. We'll likely see him as an Associate during J. Edgar, which seems to primarily take place during the mid to late '30s. [Variety]
Finally, Thomas McDonnell (Prom, The Forbidden Kingdom) has been cast as the lead in The Spectacular Now, which has a script by (500) Days of Summer writers Scott Neustadter and Michael Weber based on the novel by Tim Tharp. Lee Toland Krieger (The Vicious Kind) directs. Here's the recap of the novel:
Unlike most high school seniors, Sutter Keely—the narrator of this smart, superbly written novel—is not concerned with the future. Hes the life of the party, and he's interested in the Spectacular Now. In stream of consciousness–style prose, Sutter describes his lurching from one good time to the next: he carries whiskey in a flask, and once its mixed into his 7Up, anything is possible. He will jump into the pool fully clothed, climb up a tree and onto his ex-girlfriends roof or cruise around all hours of the night. Without ever deviating from the voice of the egocentric Sutter, Tharp (Knights of the Hill Country) fully develops all of the ancillary characters, such as socially awkward Aimee, the new girlfriend who tries to plan a future with this quintessential live-for-the-moment guy. Readers will be simultaneously charmed and infuriated by Sutter as his voice holds them in thrall to his all-powerful Now.
Sounds like it could be a spectacularly irritating coming of age tale, but perhaps there's something in the novel that the recap doesn't capture at all. [Variety]