The List Of Cities And Details For Kevin Smith's "Red State USA Tour"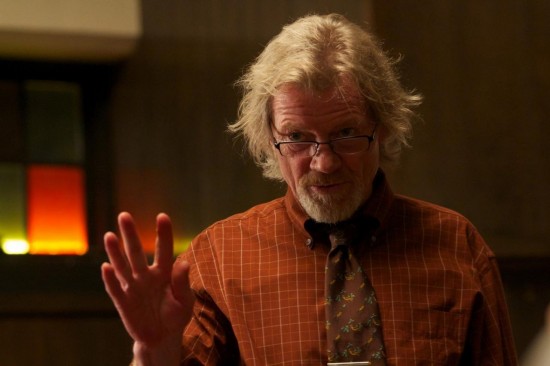 Kevin Smith is going to make back the money his own way for his newest film Red State. Part of that involves taking the film out on the road and making that profit off of willing audiences, city by city. Smith will be there for post-film Q&As at each location, and he'll be bringing lead actor Michael Parks along with him. Sounds good, right? The price, however, may be higher than you'll be willing to pay.
For all the details of Smith's "Red State USA Tour," including which cities it will visit, just hit the jump.
The Red State USA Tour sounds like a fun time, but it'll cost a pretty penny. According to Smith, you are probably going to pay "probably 6, 7, maybe 10 times" what you normally pay to see a film at a multiplex. Smith also promises that "we're going to give you some cool shit," although it's not clear if this is separate from the Q&A with Parks and Smith himself (my guess is no). It's worth noting that while this price initially sounds outrageous, it isn't too much more than a regular Smith Q&A and, to my knowledge, he usually doesn't even screen movies at those things.
Here is the full list of dates and locations:
March 5th – Radio City Music HallMarch 6th – Wilbur Theater in BostonMarch 8th – Harris Theater in ChicagoMarch 9th – State Theater in MinneapolisMarch 10th – Michigan Theater in Ann ArborMarch 11th – Indianapolis, INMarch 12th – Midland Theater, Kansas CityMarch 14th – Springfield, OHMarch 22nd – Paramount Theater, DenverMarch 26th – McCalister theater, New OrleansMarch 28th – Paramount Theater, AustinMarch 29th – Cobb Energy Center, AtlantaApril 4th – McCaw Hall in Seattle
If the tour does well, Smith will reopen the tour later on. But either way, he hopes to pay back the entire $4 million budget of the film by the time it opens in October 2011. See all the details here.
Discuss: What do you guys think? Would you pay $50-100 to see Red State early and the ensuing Kevin Smith Q&A?