'My Idiot Brother' – A Lovable Family Dramedy [Sundance Review]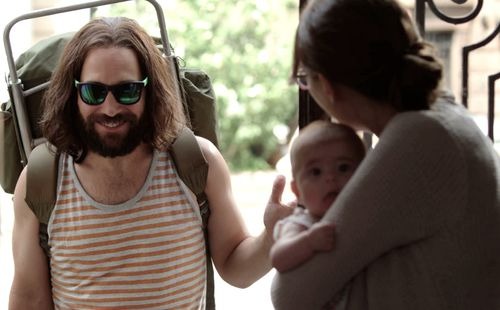 In my limited experience at Sundance, it seems like journalists and studios alike are always looking for "The Big One," that is, that film like Little Miss Sunshine that will capture the hearts of Americans and (with the proper marketing) go on to rake in over $100 million at the box office.
Two nights ago at the world premiere of My Idiot Brother it seemed as though we might have a chance at seeing this year's "Big One." Certainly, the film has a lot of talented people behind it, including producers Marc Turtletaub (Little Miss Sunshine) and Anthony Bregman (Eternal Sunshine of the Spotless Mind), not to mention its stellar cast. So did the film charm the pants off the packed Eccles theater?
My Idiot Brother begins with Ned (Paul Rudd) selling a bag of weed to a uniformed police officer. Ned, it seems, isn't the sharpest knife in the drawer, but he has a good heart and is always trying to help out those around him. When Ned returns to his farm after several months in jail, he discovers that his girlfriend has left him for someone else and has no plans to share the premises with him. Ned takes shelter with his family members, but they soon find that having an easy-going hippie who constantly speaks his mind is not a great fit for their New York lifestyles.
Ned's diverse siblings include a free-spirited Zooey Deschanel, a sexually repressed Emily Mortimer, and a Type-A Elizabeth Banks. The dysfunction in each of their lives is almost immediately obvious, and the characters are not all that likable upon first blush. If there is one redeeming thing about them, it's their willingness to help Ned and their understanding and encouragement for the wildly divergent paths that each of them have taken.
Director Jesse Peretz has directed comedies before, but the jokes here are fairly hit-or-miss. Sitting in the theater with over 1,200 people, it felt like many of the laughs towards the beginning of the film were merely polite ones. It isn't until the second half of the film, when My Idiot Brother establishes itself as primarily a family drama with some occasional, awkwardness-induced humor, that the film really finds its footing.
The film's ultimate message is that there is a virtue to honesty and that good things come to those who look out for others. As Ned tears through each of their lives like some ungodly combination of a Greek chorus and a hurricane, we witness the good and bad of this mantra carried out to its ultimate conclusion.
Rudd's portrayal as the hapless, hopeful Ned quickly grew on me, but to be sure, the film puts Ned through the wringer as he earns the scorn and opprobrium of many friends and family members. All we can do is hope that all the conflict will be worth it in the end. And while the film's resolution feels extremely rushed, its feel-good message about family and morals shines through.
So is it the next Little Miss Sunshine? I'm doubtful. I don't think it's funny enough, quirky enough, or cute enough to draw the "Little Miss Sunshine" crowd, and I don't think the drama is heavy enough to make the film very memorable. Instead, it's an enjoyable, inconsequential film, the kind that you might see for a date night but that won't stay with you for long after you leave the theater.
Here's a brief discussion of this film that I had with Alison Willmore and Matt Goldberg: