Sacha Baron Cohen's 'The Dictator' Gets A Release Date, Larry Charles Confirmed To Direct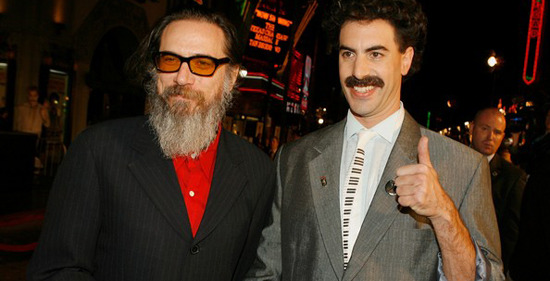 Sacha Baron Cohen will indeed reunite with his Borat and Bruno director Larry Charles for The Dictator, a new comedy in which the actor will play both a dictator and a goat herder. Paramount has set a release date: May 11, 2012, so this one is happening soon. And it will draw inspiration from one of the most revered sources of comedic influence: Saddam Hussein.
Deadline also offers up a logline: The film tells the heroic story of a dictator who risked his life to ensure that democracy would never come to the country he so lovingly oppressed. It is inspired by the best selling novel, Zabibah and The King, by Saddam Hussein."
I like the sound of that quite a lot, and hope the film is better than Bruno, which I found to be tedious and generally uninspired. I know there are people for whom all of Sacha Baron Cohen's 'reality' work falls flat, but I think in his better moments he prods issues in a way that few comedians manage. And his approach to character pretty much sets the gold standard for an actor immersing himself in a role. So how will this one fare, with the actor playing two roles instead of one?
And what does this do to the Freddie Mercury film that Peter Morgan is writing, which has been set to star Mr. Cohen? We'd heard from Queen guitarist Brian May that the film was planning to shoot later this year. But if The Dictator is going to be in theaters just over a year from now that seems less likely. Acting in two films over the course of the next year is no big deal at all, but I can't see how Sacha Baron Cohen can create a film like The Dictator and shoot something as work-intensive as a Freddie Mercury film in the same time frame. If so: bravo. But don't be surprised to hear that the Queen film has been either pushed back, or recast.