New Images: A Much Better Look At Kevin Bacon And The Cast Of 'X-Men: First Class'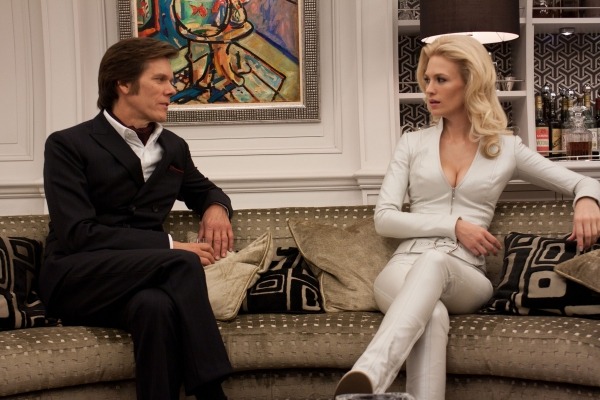 So yesterday we saw a leaked version of an image that artlessly photoshopped the lead characters of Matthew Vaughn's X-Men: First Class into a hero lineup. We've now got a much higher-resolution version of that image, along with a couple of new looks at the cast in costume. And the new images are so much better than yesterday's that they almost seem to be from a different film.
Above is the first look at Kevin Bacon as Sebastian Shaw, aka one of the villains of the film and the one major character that wasn't in yesterday's image. Despite looking a bit like a promo still for a chat show, it's a serious improvement. That's January Jones with him as Emma Frost, looking far better than she did in yesterday's shot. Hit the jump for more pics.
The LA Times presents these images. The shot below is a much better 'class photo' of the hero cast. It looks a lot more appropriate to a '60s-set film, and also looks rather like something that could have come out of Mr. Vaughn's earlier film Layer Cake.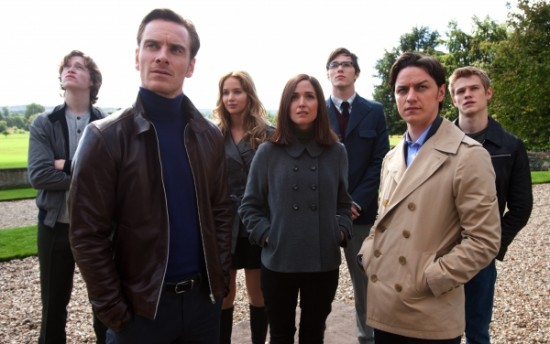 So what's the discrepancy between the image we saw yesterday and these new shots? The LAT piece suggests that this isn't a film that is being born quickly or easily. The film opens on June 3, but is still shooting now. Matthew Vaughn says,
I'm at that stage where I feel like a boxer against the ropes. I'm just throwing punches and taking them as they come and making sure I don't hit the canvas... I've never worked under such time pressure. The good thing about the independent world is I never even knew if I was going to get distribution. I'm used to finishing a film and then crossing your fingers that someone is going to like it. This is totally doing it the other way around. We've definitely got a release date and we've got to make it.
So the schedule has been rushed, reshoots and some reworking has reportedly been taking place. Will we see the costumes and makeup that were in that shot yesterday? (Large version below, via IGN.) Or was that an early test shot? We're trying to figure that out, but in the meantime go forth int he hope that First Class will look a lot more like the images above, and that the story and characters will all gel by June.