Exclusive: Futuristic Props From 'Looper,' Also New Actress And Update On Production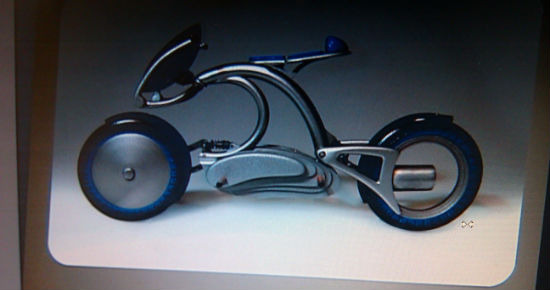 Rian Johnson's time-travel action film Looper, starring Joseph Gordon-Levitt, Bruce Willis, Emily Blunt and new cast addition Xu Qing, is set to start filming in New Orleans next week. Johnson posted a photo of the final production meeting on his Tumblr and, in addition to the announcement of Primer-director Shane Carruth joining the team, the Hollywood Reporter has a bunch of new details about the production teaming with a Chinese company called DMG.
Plus, we've just exclusively gotten our hands on some awesome prop designs from the film which were created by industrial design students at the University of Louisiana at Lafayette in Lafayette, Louisiana. You see one example above, check out the rest and read the latest on the film after the jump.
A big thanks to /Film reader Chris Callegari for sending us these images. They'll be part of an upcoming news story on KATC, TV3 in Lafayette: www.KATC.com.
According to Callegari, the production asked the industrial design students from the nearby university to design a bunch of futuristic props for the film. Out of a huge number of options, the Looper team picked about twenty they liked for use in the movie. Plus some of these props, such as the speakers, actually work. These give a great insight into the visual style Johnson is going for with the film. Click on each for a high-res version.
As for the Hollywood Reporter piece, it seems that once a deal with DMG was struck, Johnson made a symbiotic move and rewrote the script to incorporate China. Now in the film – which is about a group of mobsters in the future who travel back in time to perform assassinations – China will be the world's major superpower that invents time travel. The film will also now shoot in China. Read much more about the deal by heading over the Hollywood Reporter.
What do you think of these props, the addition of Xu Qing and the new Chinese partnership? Are you excited that, after reading about it for so long, Looper is finally becoming a reality?