This Week In DVD & Blu-Ray: Buried, Animal Kingdom, Takers, Jack Goes Boating, And More
We may receive a commission on purchases made from links.
This Week in DVD & Blu-ray is a column that compiles all the latest info regarding new DVD and Blu-ray releases, sales, and exclusive deals from stores including Target, Best Buy and Fry's.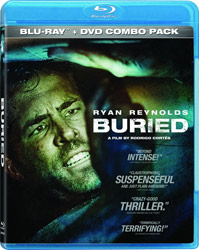 BURIED
Buried is everything that a single-location thriller about a man trapped in a coffin possibly could've been. It is economic, minimalist filmmaking at its finest. Where other filmmakers might look to this sort of concept to ease the burden of budgetary restrictions, director Rodrigo Cortés takes the opposite approach, employing the most challenging—and creatively satisfying—use of negative space, close-ups, alternating hues, and whirling camera movements at his disposal, all of which skillfully coalesce to deliver a constant sense of discomfort, dread, anxiety and claustrophobia. As the oxygen level and cell phone battery life depletes, the tension continues to increase, the viewer never granted a moment's rest from being stuck in that coffin right alongside Ryan Reynolds. By the end, you start to hope that he'll just claw his way out, if only to free yourself. Not the most pleasant of experiences, admittedly, but coupled with Reynold's charismatic screen presence and a script that knows how to build and maintain intrigue, it's a smart, exciting and thrilling one. Buy it, and share it with your friends.
Available on Blu-ray? Yes.
Notable Extras: Includes both DVD and Blu-ray versions of the film, as well as a "Unearthing Buried: The Making of Buried" featurette.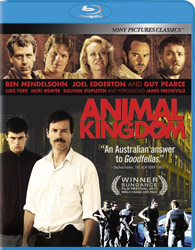 ANIMAL KINGDOM
It's unfair to blame a film for succumbing to hype, but sometimes the reaction is unavoidable. When a 96% on Rotten Tomatoes had me rushing to the theaters upon Animal Kingdom's release, I found myself desperately wanting to love the film. The picture contains so many great elements—the haunting performances, the unnerving atmosphere, the somber, almost dreamlike score—that when they failed to come together in any new or meaningful way, I feared that I had missed something. Maybe a second viewing will leave more of an impact. For the time being, my memory of the film is tainted by numerous directorial decisions that, while clearly deliberate, seemed to do more to actively detract from the experience than enhance it, such as: the lack of a compelling protagonist; frequent build-up followed by anticlimax; and a seemingly endless amount of dialogue-free, slow-motion sequences, the screen time for which might've been better used to bring more complexity and substance to these superficially captivating characters. I'd still happily recommend Animal Kingdom, as it's one of the more engaging crime dramas to hit the film scene in quite awhile, but since there appears to be a brilliance to the picture that's passed me by, I'll leave it to the commenters to extrapolate on what exactly that brilliance is.
Available on Blu-ray? Yes.
Notable Extras: DVD – An audio commentary with Director David Michôd, a Making of Animal Kingdom featurette, and a Q&A with Director David Michôd and Actors Jacki Weaver and James Frecheville. Blu-ray – Includes everything on the DVD, as well as an hour long featurette entitled Creating Animal Kingdom (instead of the Making of Animal Kingdom feature).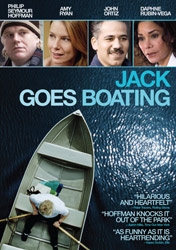 JACK GOES BOATING
Jack Goes Boating—the directorial debut of Philip Seymour Hoffman—is a nice, tender little movie about two ordinary working class couples who struggle to find and maintain love and happiness, but it's so modest in scope that it seems to barely exist at all. It's yet another low-key, meandering indie production that assumes simply spending time with these characters is story enough. It happens to be right, too—if just barely—thanks to natural, charming performances by its cast (Hoffman, Amy Ryan, John Ortiz). But as one might've guessed from a movie titled Jack Goes Boating, things don't get much more exciting than that.
Available on Blu-ray? Yes.
Notable Extras: DVD & Blu-ray – Deleted scenes, and behind the scenes featurettes.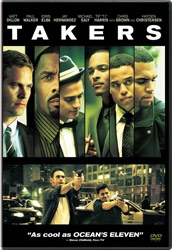 TAKERS
It's been ten years since Ocean's 11, and I think I've gotten my fill of suave bank robbers casually pulling off complex heists. Where's the thrill? Where's the challenge? These are issues that never concern Takers, a woefully generic albeit inoffensive mish-mash of bank heist clichés that tries to make up for what it lacks in originality with a familiar-faced, ethnically diverse ensemble cast. Unfortunately, those familiar faces include the likes of Hayden Christensen and Paul Walker, so that can hardly be seen as a selling point. Their performances, along with the inexperienced efforts of Chris Brown and Tip 'T.I'. Harris, result in a group dynamic that's awkward and forced, and as much as director John Luessenhop tries to spice things up with kinetic visuals and strong music selections (save for the laughably melodramatic climactic shootout), there's no escaping the overwhelming mediocrity of the plot. Sure, the characters get saddled with a half-baked subplot a piece, but those do little to flesh them out as people worth caring about, or worth wasting 100 minutes on. Pass.
Available on Blu-ray? Yes.
Notable Extras: DVD – A filmmaker and cast commentary, and a "Yeah Ya Know (Takers)" By T.I. Promotional Music Video. Blu-ray – Includes everything on the DVD, as well as 2 featurettes ("Executing the Heist: The Making of Takers", "Take Action!").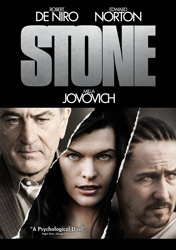 STONE
Stone wasn't met with much enthusiasm when it quietly snuck its way into limited release, receiving a perfectly average 48% on Rotten Tomatoes and garnering a domestic box office gross of less than $2 million off a $22 million budget. Too bad—you'd think a movie starring Robert De Niro and Edward Norton would be a sure bet. But then, I would've thought the same of a movie starring De Niro and Al Pacino, and we all know how Righteous Kill turned out.
Available on Blu-ray? Yes.
Notable Extras: DVD & Blu-ray – A behind the scenes featurette.
Other noteworthy DVD (and Blu-ray) releases this week...
Justified (Season 1) [DVD / Blu-ray] – Freakonomics [DVD / Blu-ray] – The Virginity Hit – Death Race 2 [DVD / Blu-ray] – Paper Man [DVD / Blu-ray] – Lebanon [DVD / Blu-ray] – The Naked Kiss (Criterion Collection) [DVD / Blu-ray] – Shock Corridor (Criterion Collection) [DVD / Blu-ray]

NOTES: Some deals may vary by store. Some deals may be in-store only. All deals are for DVDs unless otherwise noted.

$8.99 – Blu-ray sale: Black Hawk Down, The Boondock Saints II: All Saints Day, Casino Royale, District 9, Zombieland
$9.99 – Blu-ray sale: The Good, the Bad and the Ugly, Predator, Predator 2, Ever After