Kevin Smith: Working With Bruce Willis On 'Cop Out' Was "Soul Crushing"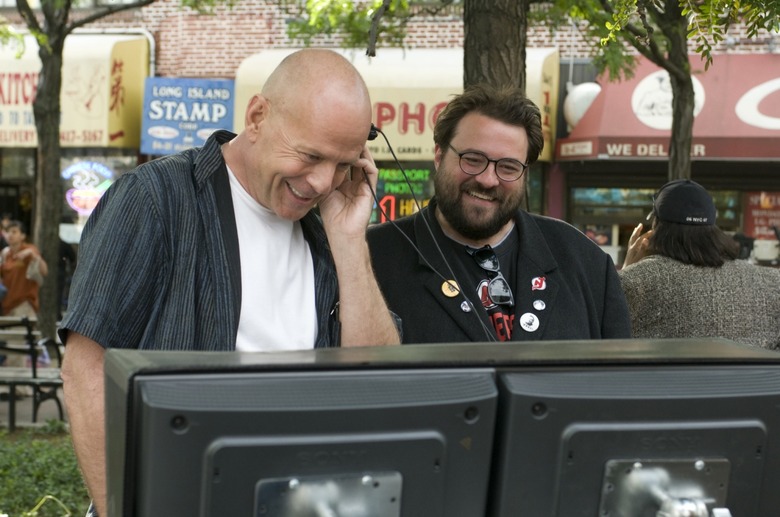 There have been quite a few stories in the gossip sites that all was not well on the set of Kevin Smith's Cop Out, with reports claiming that the filmmaker and star Bruce Willis were not getting along. At the time of release, Willis denied reports and Smith admitted but downplayed problems with humorous stories. But now Smith seems to be a little bit more willing to talk about what happened during the production of the buddy cop comedy, and admits that his experience working with Bruce Willis on Cop Out was "soul crushing"
In Summer 2009, the National Enquirer reported that Willis was noticeably absent at the wrap party for the movie, where Smith reportedly toasted "I want to thank everyone who worked on he film, except for Bruce Willis... who is a f**king d**k!" Smith has admitted that it took him a while to figure out how to work with the actor as Willis wouldn't take direction and was "very much the author of his own performance." Here is a clip from Macworld Expo where Smith talks about how he had to struggle to direct Willis:
In later interviews, Smith admitted that he was a little starstruck by Willis, and it may have been partly his fault for not taking more authority. Willis' spokesperson even issued a statement stating that "There is absolutely no rift between Bruce Willis and Kevin Smith. Bruce very much enjoyed working with Kevin Smith as well as his co-star Tracey Morgan. The only reason Mr. Willis was not at the wrap party for the film is that he was in Los Angeles taking part in a press junket and press activities for his movie Surrogate."
Today, Marc Maron released an interview with Kevin Smith on his popular WTF Pocast, where the filmmaker had some interesting things to say about working with Willis. Here is an excerpt, transcribed by Filmdrunk. Note: they are discussing the film's marketing, and more specifically the billboard advertising which Maron thought was horrible:
Kevin Smith: "Look, I know the real story. One guy wouldn't even sit for a f__kin' poster shoot."Marc Maron: "You don't want to mention names all of a sudden?"Smith: "Everyone knows who it is. Put it this way, remember the really funny guy in the movie? It ain't him. He's a f__king dream. Tracy Morgan, I would lay down in traffic for. Were it not for Tracy, I might've killed myself or someone else in the making of that movie."
Smith later explained:
"It was difficult. I've never been involved in a situation like that where, one component is not in the box at all. It was f__kin soul crushing. I mean, a lot of people are gonna be like, 'Oh, you're just trying to blame the movie on him.' No, but I had no f__king help from this dude whatsoever."
"...he changed everything for me though. Because now I'll never meet anybody. That was it. I'd rather like people from a distance."
So there you have it. You can listen to the entire Marc Maron's podcast WTF with Kevin Smith on WTFPod.com. And Kevin Smith's Smodcast podcast network can be found at Smodcast.com.