'Rubber' Trailer – Movie About A Killer Tire With Psychic Powers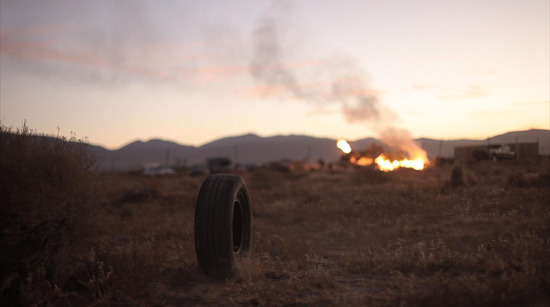 You've already seen a short teaser trailer for Quentin Dupieux's killer tire movie Rubber but now that its April 1 release date is fast approaching, Magnet has released the real deal: a two-and-a-half minute glimpse at one of the most unique films to get a release in recent years.
Having experience this movie first hand, here's my 2 cents on this trailer. It gives away a lot. You don't know it's doing so, it just looks like a bunch of really weird images edited together, but if any of those images stick in your head, they could hypothetically taint your enjoyment of this absolutely original, you-don't-know-where-it's-going film. Still, a lot of you don't care about that sort of thing and if you don't, you're gonna love this trailer. Check it out after the jump.
To check out the trailer in full, glorious HD, head over to Apple.
Here's the plot description of Rubber.
RUBBER is the story of Robert, an inanimate tire that has been abandoned in the desert, and suddenly and inexplicably comes to life. As Robert roams the bleak landscape, he discovers that he possesses terrifying telepathic powers that give him the ability to destroy anything he wishes without having to move. At first content to prey on small desert creatures and various discarded objects, his attention soon turns to humans, especially a beautiful and mysterious woman who crosses his path. Leaving a swath of destruction across the desert landscape, Robert becomes a chaotic force to be reckoned with, and truly a movie villain for the ages. Directed by legendary electro musician Quentin Dupieux (Steak, Nonfilm), aka Mr. Oizo, RUBBER is a smart, funny and wholly original tribute to the cinematic concept of no reason.
While Rubber will be released on April 1, you can watch it on demand starting February 25. Is this one you are excited for? What do you think of this trailer?